Apple seeds second OS X 10.8.4 beta with no known issues, reactivates App Store updates
By Mikey Campbell
Tuesday, April 09, 2013, 01:38 pm PT (04:38 pm ET)
Apple on Tuesday rolled out OS X 10.8.4 beta build 12E30 to developers, with the biggest change being the return of Mac App Store downloads




The new build release come a little over one week after Apple issued the first Mountain Lion 10.8.4 beta in early April.

According to people familiar with the new build's release notes, Apple has not modified the areas of focus since the first beta, asking testers to focus on Wi-Fi, Graphics Drivers and Safari.

Unlike the first build, Apple is now offering software updates through the Mac App Store, a feature first seen with OS X 10.8.3 beta builds.
Today's Headlines
No news headlines yet today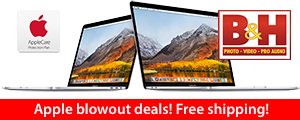 2018 13" Touch Bars
Price
Save
2.3GHz/8GB/256GB (Gray)
$1,699.00+
$100
2.3GHz/8GB/512GB (Silver)
$1,879.00+
$20
2.3GHz/16GB/512GB (Gray)
$2,099.00+
$100
2.7GHz/16GB/512GB
$2,449.00+
$50
2.7GHz/16GB/1TB
$2,849.00+
$50
2018 15" MacBook Pros
Price
Save
2.2GHz/16/256GB/555X
$2,215.00+
$185
2.2GHz/32/1TB/560X
$3,449.00+
$50
2.6GHz/16/512GB/560X
$2,575.00+
$224
2.6GHz/16/1TB/560X (Gray)
$2,999.00+
$200
2.6GHz/32/1TB/560X (Gray)
$3,399.00+
$200
2.6GHz/32/2TB/560X (Gray)
$3,999.00+
$400
Click here for dozens more configurations
+ Free shipping within the contiguous U.S.
Lowest Prices Anywhere!

13" MacBook Pros
Price
You Save
3.1GHz/8GB/256GB Gray
$1,679.00
$120.00
3.1GHz/8GB/256GB Silver
$1,704.00*
$95.00
3.1GHz/8GB/512GB Gray
$1,849.00*
$150.00
3.1GHz/16/512GB Gray
$2,099.00
$100.00
15" MacBook Pro
Price
You Save
2.8GHz/16/256/555 Silver
$2,199.00*
$200.00
2.8GHz/16/256/560 Gray
$2,299.00
$200.00
2.9GHz/16/512/560 Gray
$2,599.00
$200.00
2.9GHz/16/1TB/560 Gray
$2,999.00
$200.00
3.1GHz/16/512/560 Gray
$2,799.00
$200.00
3.1GHz/16/2TB/560 Gray
$3,899.00
$300.00

*

price with Promo Code:

APINSIDER

prices.appleinsider.com for more configurations