Microsoft lambasts Google for sharing personal information of Android users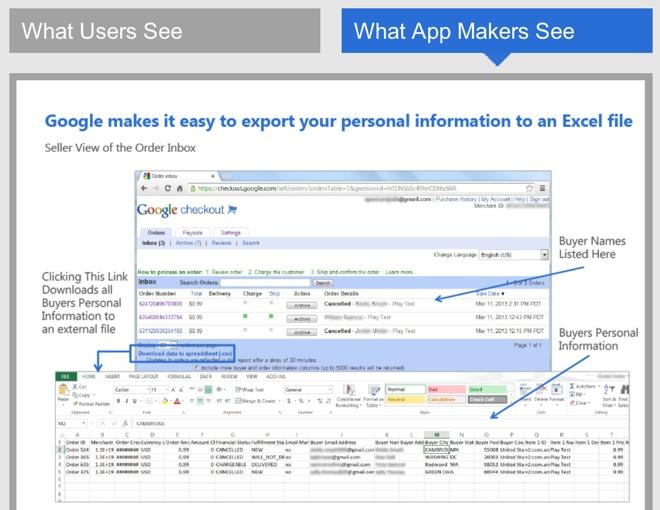 AppleInsider is supported by its audience and may earn commission as an Amazon Associate and affiliate partner on qualifying purchases. These affiliate partnerships do not influence our editorial content.
In the latest phase of its anti-Google campaign, dubbed "Scroogled," Microsoft has begun to highlight the fact that Android users' personal information is shared with developers every time they download an application.
The "Scroogled" website was updated on Tuesday with a new video detailing how a user's full name, email address, and the neighborhood where they live is passed from Google to an app maker every time software is downloaded from the Google Play store for Android. The campaign warns that this allows app makers to track what apps users buy, "even health related ones."
"Most app makers are trustworthy," the video states. "However, in the wrong hands, who knows what they'll do with your info?"
This transfer of information occurs every time a user buys an Android application from Google Play, Microsoft notes. The video shows information being collected to draw conclusions about a hypothetical issues, including the fact that they may be "overweight," have "cholesterol issues," or are "having a baby."
"Google does not clearly warn you that this transfer of personal info occurs every time you buy an app," Microsoft's campaign says. "It's not stated in the checkout process, on the receipt, or in your account history."
Of course, Microsoft's efforts are designed to push its own competing Windows Phone platform, which the company notes does not share such personal information with developers. For its part, Google has said its sharing practices are disclosed in the terms of service all users must agree to.
Greg Sullivan, Microsoft's senior manager for Windows Phone, told the Associated Press that he believes his company offers a "better alternative" for mobile users. He characterized Google's sharing of users' personal information as "nefarious."
Tuesday's update is the third major attack launched by Microsoft as part of its "Scroogled" campaign against Google.
In the first phase, Microsoft detailed how Google's algorithms go through users' personal emails to target them with advertisements. As an alternative, the Windows maker pushed its own Outlook email service.
The second "Scroogled" campaign explained how Google Shopping is a list of targeted ads that Microsoft believes "unsuspecting consumers assume are search results." Microsoft's alternative is Bing, which the company said provides "an honest search result."