AT&T's 4G LTE network to hit 79 new markets by summer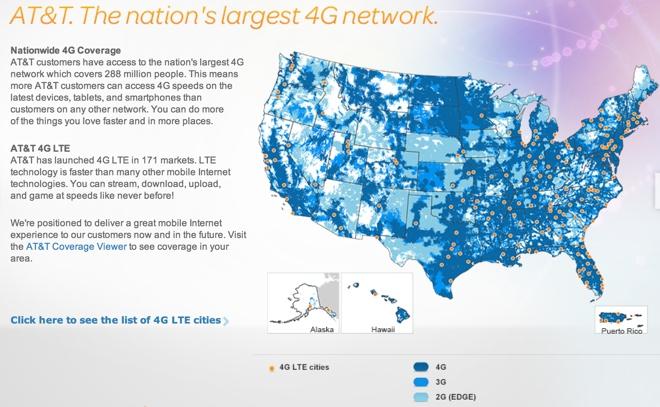 AT&T-based users of Apple's iPhone 5 and LTE-enabled iPads will soon find their data access speeds greatly increased in a number of markets, as the carrier announced on Tuesday the expansion of its 4G LTE network to 79 new areas.
The bulk of the network expansion announced on Tuesday will occur over the course of the summer, with only eight of the announced markets going 4G LTE-active immediately. Those eight markets include Walterboro, SC; Santa Rosa-Petaluma, CA; Wilson, NC; and Kalamazoo, MI.
The remaining markets will see 4G LTE speeds arriving over the summer. Those markets include Youngstown, OH; Dayton, OH; Seneca Falls, NY; Columbia, MO; Morgantown, WV; Rio Grande Valley, TX; Ocean City, NJ; and Kinston, NC.
A number of these markets have already been receiving 4G data speeds, but the expansion of 4G LTE will see greater speeds, up to 10 times faster than 3G. AT&T's 4G network currently covers roughly 288 million people across the United States. In recent tests across 13 markets, PC World found AT&T to be the fastest among all providers in terms of download speeds.
A complete listing of the announced areas receiving 4G LTE connectivity between now and the summer follows:
Anderson, S.C.
Athens, Tex.
Atlantic City, N.J.
Batavia, N.Y.
Cape Cod, Mass.
Cape Girardeau, Mo.
Charleston to Walterboro, S.C.
Chattanooga, Tenn.
Chico, Calif.
Columbia, Mo.
Columbus, Ind.
Cookeville, Tenn.
Corinth/New Albany, Miss.
Corsicana, Tex.
Cortland, N.Y.
Davenport, Iowa
Dayton, Ohio
Dover, Del.
Duluth, Minn.
Farmington, N.M.
Flagstaff, Ariz.
Flint, Mich.
Florence/Muscle Shoals, Ala.
Fort Wayne, Ind.
Gallup, Tex.
Goldsboro, N.C.
Greenwood, Miss.
Gulfport/Biloxi, Miss.
Hancock County, Ga.
Huntington, W.V.
Huntington, W.V.
Huntsville, Ala.
Huntsville, Tex.
Jackson, Miss.
Jackson, Tenn.
Jefferson/Commerce, Ga.
Kalamazoo, Mich.
Kinston, N.C.
Lansing, Mich.
Laramie, Wyo.
Laredo, Tex.
Leonardtown, Md.
Manhattan, Kan.
Merced, Calif.
Meridian/Philadelphia, Miss.
Millville, N.J.
Monroeville/Evergreen, Ala.
Morgantown, W.V.
Muskegon, Miss.
Nacogdoches-Lufkin, Tex.
Napa, Calif.
New Haven, Conn.
Ocean City, N.J.
Orangeburg, S.C.
Paris, Tex.
Petersburg, Va.
Portsmouth, N.H.
Rio Grande Valley, Tex.
Roanoke, Va.
Rockingham County/Reidsville, N.C.
Rocky Mount, Va.
Saginaw, Mich.
Salem, Ore.
San Francisco, Calif.
Santa Rosa-Petaluma, Calif.
Seneca Falls, N.Y.
Sherman-Denison, Tex.
Shreveport, La.
Spokane, Wash.
Texarkana, Tex.
Topeka, Ks.
Troy/Greenville, Ala.
Tuscaloosa, Ala.
Valdosta, Ga.
Victoria, Tex.
Visalia, Calif.
Williamsport, Penn.
Wilson, N.C.
Wooster, Ohio
Youngstown, Ohio