iPhone 5 debuts to lines, crowds, and commercials on T-Mobile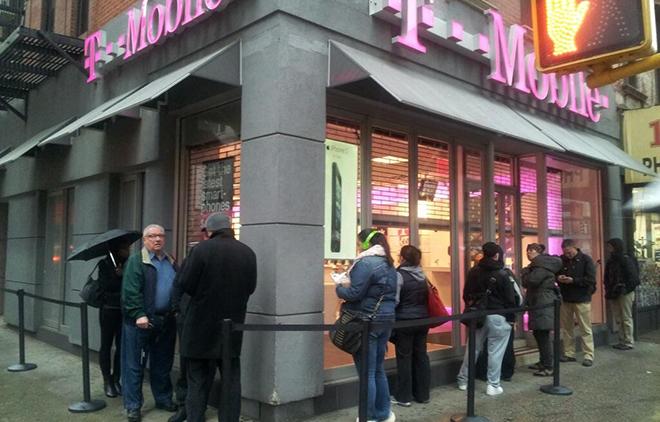 AppleInsider is supported by its audience and may earn commission as an Amazon Associate and affiliate partner on qualifying purchases. These affiliate partnerships do not influence our editorial content.
On Friday, Apple's iPhone finally launched on T-Mobile, the United States' fourth-largest wireless carrier, with customers able to pick up Apple's bestselling smartphone on T-Mobile's new UNcarrier pricing structure.
Customers line up ahead of T-Mobile's iPhone launch. Image via BTIG Research's Walter Piecyk (@piecykw)
Depending on creditworthiness, customers can pick up a 16GB iPhone 5 for just $100 down followed by 24 monthly payments of $20 until the full cost of the phone is paid off. The device will have access to T-Mobile's newly-active 4G LTE network, available in seven markets across the US.
While not as big as the launch of a fully new Apple device, there have been reports of lines forming in front of T-Mobile retail stores ahead of the iPhone's launch. BTIG Analyst Walter Piecyk tweeted an image on Friday of about ten people in line waiting for the device. Likewise, TechCrunch reports that its own intern saw a small line outside of a New York T-Mobile Store.
AppleInsider's calls to a number of T-Mobile stores were unable to get an exact figure for the number of iPhone 5 units sent out, with one attendant saying only that "we have quite a few in both colors." Multiple T-Mobile retail outlets contacted, though, did verify that they saw small lines outside their locations before opening, and some reported a "full store" some time after opening for business hours.
Internal documents obtained by TmoNews revealed that T-Mobile had prepped more than 240,000 iPhone 5 units for dispersal to company-owned retail stores for sale on Friday.
Those documents also show that T-Mobile is setting a one-device limit per customer per 14-day period. Customers who showed up early to wait in line were apparently provided with tickets to reserver a device. Non T-Mobile customers can buy up to two iPhone 5s per transaction at the "Phone Only" full price.
TmoNews also spotted a number of in-store displays for the iPhone 5, showing off the device in a minimalist fashion. Additional in-store displays show off a number of cases for the device.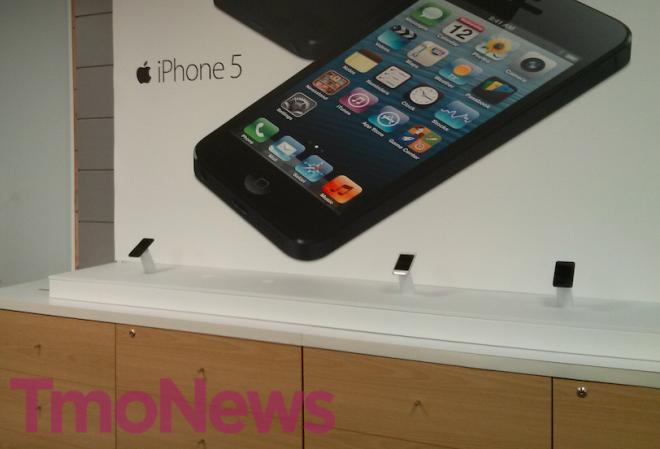 T-Mobile customers will also be able to choose from the iPhone 4S and the iPhone 4, though those devices will not be able to access the carrier's 4G LTE network.
T-Mobile's new data plans include 500 megabytes of high-speed online data and unlimited calls and texts for $50. For an extra $10 per month, users get 2.5 gigabytes of high-speed data, while unlimited 4G access runs $70 per month. In addition, users are simply throttled, not penalized, when they go over their data cap.
T-Mobile also launched on Friday its very first commercial highlighting Apple's bestselling smartphone on its network. The commercial touts not only the iPhone 5, but T-Mobile's own pricing plans as well.
Last among the major American carriers to adopt the 4G LTE standard, T-Mobile is hoping the arrival of Apple's iPhone on its network can, along with its new payment plans, reverse a trend that has seen subscribers departing for its competitors. The event to launch the new payment plans was filled with colorful language from T-Mobile CEO John Legere. Legere said T-Mobile's contract-based competitors were taking advantage of customers and characterized the UNcarrier plans as a way to "stop the [nonsense]."