Microsoft backing off Metro, plans boot-to-desktop mode for Windows 8.1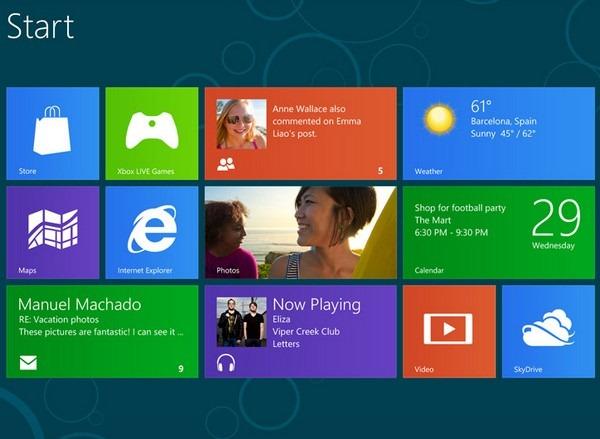 In an apparent attempt to have its latest operating system better appeal to business customers, Microsoft reportedly plans to add a "boot to desktop" mode to its Windows 8.1 update, allowing users to bypass the Metro Start Screen.
In current test builds of Windows 8.1, codenamed Windows Blue, the operating system includes an option to boot directly to the traditional Windows desktop, sources familiar with the company's plans indicated to The Verge. That's a major change from the current version of Windows 8, which automatically boots to the new Start Screen which features the tiled "Metro" user interface.
Windows 8 currently boots to the new Start Screen, seen above, requiring an extra step to reach the desktop.
The new Start Screen has been criticized by PC users who feel the interface is not ideal with a traditional keyboard and mouse setup. Some believe the Metro user interface is better suited for touchscreen devices, like tablets and phones.
While Microsoft reportedly plans to make the desktop view a default option when booting a system, the company is said to be keeping the invisible "hot corners" it introduced with Windows 8. That function allows users to bring up the operating system's "Charms" or the Metro Start Screen by touching or dragging their PC mouse to the corner of the screen.
Windows 8 launched last fall with a great deal of hype from the Redmond, Wash., company, which claimed the new operating system was a revolutionary upgrade from its predecessor, Windows 7. But Windows 8 got off to a soft start, and failed to turn around sales in the sagging PC hardware market.
Continuing woes in the PC market have been generally blamed on the popularity of Apple's iPad, which reached a new, lower entry price of $329 last fall with the debut of the iPad mini. In comparison, many new touchscreen Ultrabooks running Windows 8 cost over a thousand dollars.
The struggles seen by PC makers have led market watchers to predict that the industry could see a major shakeup in the coming years. Some believe that remaining companies could merge, leading to fewer options, while others see gross margins shrinking in an effort to cut prices and boost sales.