PC gross margins expected to decline as sales shrink, Dell goes private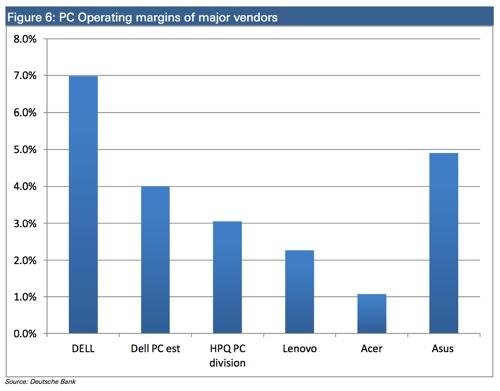 The struggling PC market is forecast to go from bad to worse, as one analyst believes a number of market factors will push gross margins even lower in the already-cutthroat business.
"PC profitability is the next shoe to drop," Chris Whitmore of Deutsche Bank declared in a note to investors on Monday. He believes that pricing the PC market will become even more aggressive over the next few years, a trend that could be led by a newly private Dell.
Whitmore expects that overall PC sales will be down 8 percent this year, and 5 percent in 2014. He believes tablets, like Apple's iPad, will continue to chip away at sales of traditional computers.
The analyst cited an internal letter from Michael Dell that leaked earlier this month, in which the CEO suggested he plans to pursue growth at the expense of gross margins.
A private Dell without expectations from Wall Street would have "considerable flexibility to lower margins," Whitmore said. This would allow the company to grow and drive a scale advantage over its competitors.
"Consequently, we foresee a sharp increase in competitive dynamics in the PC market, which could result in greater profit declines across the industry," he said.
Whitmore's negative outlook on the PC market comes on the heels of the steepest quarterly decline ever seen by IDC in tracking estimated PC sales. The latest data released last week found that the overall market declined 13.9 percent year over year in the first quarter of 2013.
Apple's Mac lineup has not been immune to this trend, as the company saw its sales dip 7.5 percent year over year. IDC's estimate for the March quarter follows a 17 percent drop in Mac sales that occurred during the prior holiday quarter.
Whitmore's take joins another bearish view shared last week by Maynard Um of Wells Fargo, who said he believes the PC industry is headed for a major shakeup in the coming years. He expects that some of the biggest players will begin to consolidate, leaving fewer companies controlling larger shares of the industry.