Apple's iPhone accounted for 4M of Verizon's 7.2M total Q1 smartphones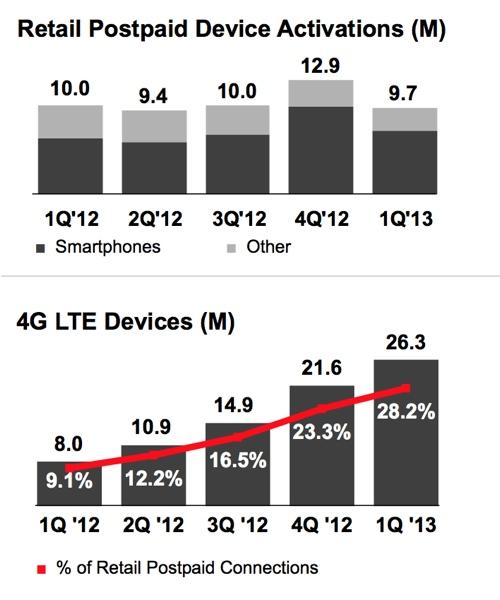 With 7.2 million total smartphones activated in Verizon's first fiscal quarter, the iPhone accounted for more than half, with 4 million total Apple handsets activated in the three-month span.
In a conference call revealing its quarterly earnings on Thursday, Verizon revealed that roughly half of the 4 million iPhone units activated were 4G LTE devices. Since the iPhone 5 is the only 4G LTE capable phone from Apple, that means Verizon activated about 2 million iPhone 5 units.
Apple's 55 percent share of Verizon smartphones in the quarter was down from the nearly two-thirds of activations the iPhone took during the previous holiday quarter. The drop is no surprise, though, as the previous quarter included the much-hyped launch of the iPhone 5, as well as corresponding price cuts for the legacy iPhone 4S and iPhone 4.
But the iPhone 5's share of total iPhone activations at Verizon remained unchanged, representing about half of all Apple smartphones at the nation's largest carrier. In the holiday quarter, Verizon activated 9.8 million total smartphones, with 6.2 million of those iPhones, and about 3.1 million the iPhone 5.
The latest data from Verizon shows that although there is growing concern that Apple could be losing steam in the face of rivals such as Samsung, the iPhone still accounts for more than half of all smartphone sales in the U.S. at the two largest major carrier partners. Last quarter, the iPhone represented 84 percent of all smartphone activations at AT&T.
For the quarter, Verizon reported earnings of 68 cents per share on revenue of $29.4 billion, representing 15 percent year over year growth. Of the 7.2 million smartphones activated in the quarter, 5.9 million of those were 4G LTE devices.
"Verizon is off to an excellent start in 2013," said Lowell McAdam, Verizon chairman and CEO. "Our strategic investments in wireless, wireline and global networks have given us the platforms to sustain momentum and take advantage of growth opportunities in key markets for broadband, video and cloud services. With ongoing improvements in operating efficiency, we expect continued growth in free cash flow and earnings as we move through the year."