ACLU: Android fragmentation creates privacy risk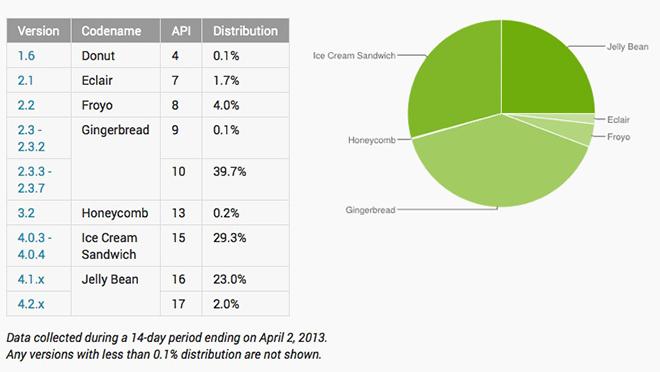 The slow update schedule for smartphones running Google's Android operating system, along with the resulting fragmentation in OS versions on the platform, creates a security risk for owners of those phones, according to the American Civil Liberties Union.
Android version distribution. via Google.
The ACLU has asked the U.S. Federal Trade Commission to look into the policies of U.S. wireless carriers, who the ACLU says are too slow to upgrade the operating systems of the Android phones they support. The ACLU, reports SiliconValley.com, says that the lag in software updates leaves smartphone users with out of date and dangerous systems.
The group filed a 17-page complaint this week, naming AT&T, Sprint, Nextel, T-Mobile, and Verizon among the carriers that have ignored the warnings of experts and government officials, who say that a failure to update software gives hackers an opening to steal data. The complaint says the carriers are exposing their customers to "substantial harm" by not pushing out software updates quickly.
Google makes its Android operating system available for free to a wide array of manufacturers, and the search company works with those manufacturers to ensure that updates to the OS will work on devices that can support it. Once updates are tweaked for individual devices, though, they are then pushed on to the assorted wireless carriers, who test them for compatibility with their own networks.
Sprint, the third-largest wireless carrier, has said that it follows "industry-standard best practices" to protect its customers, while Verizon says it pushes out patches "as quickly as possible." Industry observers, though, say that the carriers' inability to push out updates quickly is more reflective of their struggles in adapting to the fast-moving smartphone sector.
The ACLU's complaint notes that only two percent of the hundreds of millions of Android handsets on the market today are running the most recent version of Android. The majority of handsets run a version released in the last two years, but nearly half of all Android users are running software older than that. This fragmentation of the Android market has led to many users being locked out from some software offerings, such as Facebook Home. It has also led to no small level of discontent within the developer community, with some predicting that independent developers will be squeezed out due to their inability to develop across so many version numbers.