Apple to kick off Worldwide Developers Conference on June 10 in San Francisco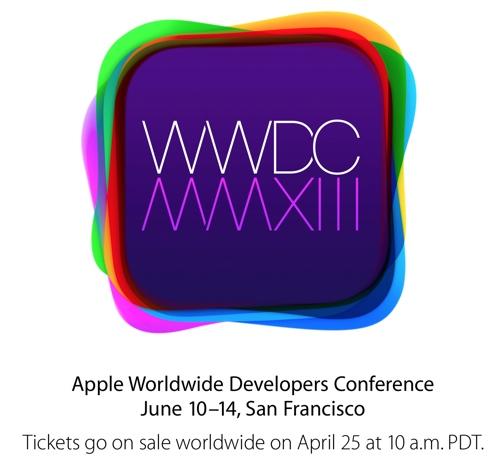 Apple on Wednesday announced it will hold its annual Worldwide Developers Conference, where it has traditionally shown off the next version of its iOS mobile operating system, June 10 through 14 in San Francisco, Calif.
As in previous years, the five-day conference will be held at San Francisco's Moscone West. The event will feature more than 100 technical sessions presented by more than 1,000 Apple engineers.
Tickets for this year's conference will go on sale Thursday, April 25, at 10 a.m. Pacific, 1 p.m. Eastern. In years past, the event has sold out in a matter of minutes.
"We look forward to gathering at WWDC 2013 with the incredible community of iOS and OS X developers," said Philip Schiller, Apple's senior vice president of Worldwide Marketing. "Our developers have had the most prolific and profitable year ever, and we're excited to show them the latest advances in software technologies and developer tools to help them create innovative new apps. We can't wait to get new versions of iOS and OS X into their hands at WWDC."
In addition to technical sessions, the event will also include hands-on labs aimed at helping developers to integrate new technologies. The conference will also host the annual Apple Design Awards, which showcase some of the most outstanding applications available on the iOS and Mac App Stores.
The full list of activities at the 2013 conference, according to Apple, will include: