Apple widens lead in US smartphone market as iPhone nears 40% share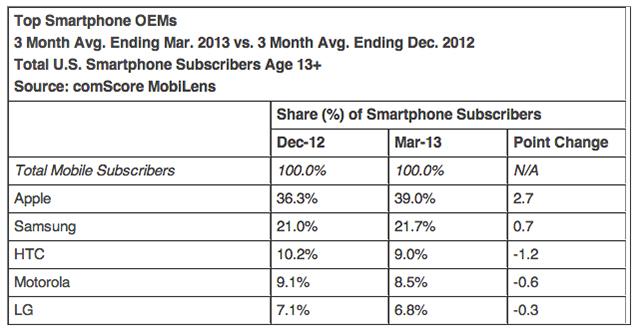 AppleInsider may earn an affiliate commission on purchases made through links on our site.
As of March, Apple boosted its share of the U.S. smartphone market to 39 percent, according to the most recent statistics from market research firm comScore, with a three-month percentage growth outperforming Samsung by a factor of four.
For the first quarter of 2013, comScore's MobiLens service found Apple's iPhone to have kept its spot at the top of America's smartphone user market, which now stands at 136.7 million people.
Apple's handset grew its share of the market by 2.7 percent, moving from 36.3 percent to 39 percent over the three month period ending in March. The jump was the largest seen of the top five OEMs, and represented the only growth in brand marketshare besides Samsung.
The Korean company posted market growth of 0.7 percent, from 21 percent to 21.7 percent, to retain its position behind Apple. Samsung's share of the market is over two times that of number three HTC, which lost ground during the first quarter, falling from a 10.2 percent share to 9 percent, a drop of 1.2 points.
The fairly large hit to HTC's U.S. marketshare allowed fourth and fifth place Motorola and LG to slowly sneak up on the faltering Taiwanese phone maker. While still putting up losses, Motorola managed to keep an 8.5 percent share of the market, falling 0.6 percent. LG's piece of the pie went from 7.1 percent to 6.8 percent during the quarter.
As Apple's line of iPhones only run iOS, the mobile operating system also enjoyed a 2.7 bump and was the only OS to see growth in the March quarter. Google's Android platform was still on over half of all UY.S. smartphones, but its share dipped 1.4 percent over the three month period, going from 53.4 percent to 52 percent.
Number three BlackBerry shed 1.2 percent to move from 6.4 percent to 5.2 percent, while Microsoft's Windows Phone put up slight growth of 0.1 percent to end the quarter with 3 percent of the market. Symbian rounded out the top five and dropped its marketshare from 0.6 percent to 0.5 percent.
American smartphone users now make up 58 percent of the entire mobile market, a figure up 9 percent since December. With carriers offering deep subsidies and aggressive pricing, that number will most likely continue to grow for the foreseeable future as Internet-connected handsets quickly take over so-called feature phones.