Apple pushes App Store promotion as 50 billionth download mark approaches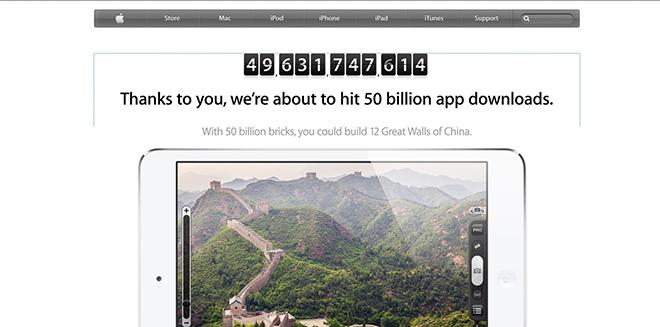 Thursday saw Apple increasing promotion for the forthcoming 50 billion download on its App Store, publicizing the approaching mark with a prime spot on the company's homepage.
Visitors to Apple.com will now see the company's ongoing ticker counting up toward the 50 billion download mark. The site also displays assorted facts and figures about the number 50 billion, while an iPad is displayed underneath.
Apple began this most recent countdown just last week, promising a $10,000 App Store Gift Card to the person who downloads the 50 billionth app. Users downloading the first 50 apps after that will get a $500 App Store Gift Card.
Prior landmark contests demonstrate not only Apple's own commitment to observing important App Store marks, but also the popularity of the Store and Apple's iOS devices. The countdown to one billion downloads began in April of 2009, and the countdown to 10 billion began just under two years later.
In October of just last year, Apple CEO Tim Cook noted that App Store customers had downloaded more than 35 billion apps, meaning nearly 15 billion apps have been downloaded in the six or so months since.