Teardown finds Samsung Galaxy S4 more costly to build than Apple's iPhone 5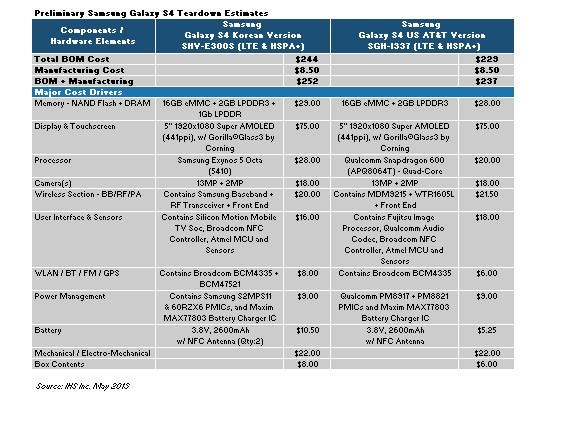 An analysis of parts found inside Samsung's new Galaxy S4 has concluded the flagship smartphone is more costly to build than Apple's iPhone 5, with a price tag of $237 for the 16-gigabyte model.
The analysis conducted by IHS iSuppli found a great deal of difference between the U.S. and Korean versions of the Galaxy S4. Their estimates found that the AT&T version is cheaper, at $237, than the $252 model built for Korea, when the cost of parts and manufacturing are combined.
The biggest difference in cost comes from the processor: The AT&T model features a Qualcomm Snapdragon 600 quad-core CPU that is estimated at $20, while the Korean model has a $28 Samsung Exynos 5 Octa.
The costs compare to an estimated total bill of $207 for parts and manufacturing of Apple's 16-gigabyte iPhone 5. The two competing handsets are priced comparably with carrier contract subsidies, suggesting that Apple makes greater profit margins on the iPhone 5 than Samsung does with the Galaxy S4.
Of course, these estimated values do not include the money invested in research and development of both hardware and software. The teardowns represent only the component prices and costs to assemble the devices.

The most expensive part of the Galaxy S4 is the 5-inch touchscreen display, which is estimated to have a $75 price tag. The Super AMOLED screen features a 441-pixel-per-inch density and is protected by Corning's Gorilla Glass 3.
Other part estimates include the 13-megapixel rear and 2-megapixel front cameras ($18), 16 gigabytes of storage ($28), power management components ($9), and various sensors ($18).
The total bill of materials cost for the U.S. AT&T version is $229, while the Korean version costs $244. Both have an estimated manufacturing cost of $8.50, which brings them to their respective final costs.