Building permits detail $16M in new work at Apple's Reno iCloud data center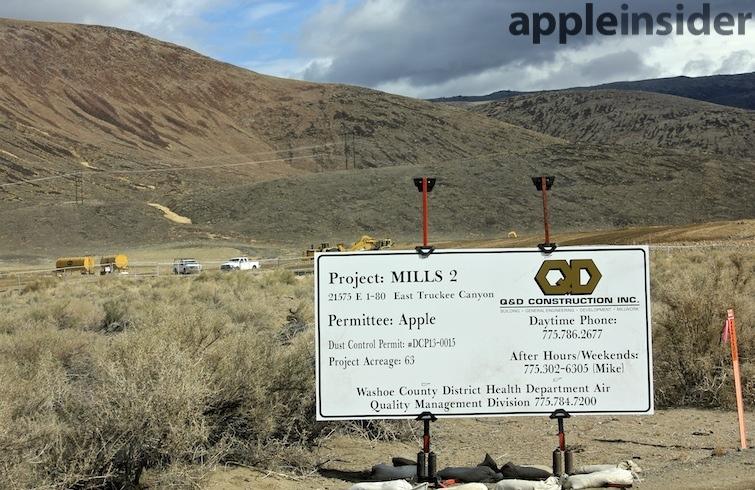 Apple has paid over $100,072 in fees for new building permits on three construction projects valued at over $16 million, all to be located within its new Reno, Nev. iCloud data center site.
While Apple got initial approval for the project last year, it just paid for the latest crop of permits last week, as noted by Reno real estate blogger Mike McGonagle of ReReno.
The permits outline $4 million in general infrastructure improvements, a $4.6 million, 38,000 square foot administration building with a "loading dock and staging area," and over $6.8 million for two "data processing cluster buildings" described as totaling 50,570 square feet.
All are located in the Reno Technology Park about 15 miles east of Reno, and are assigned to Apple and its contractor MA Mortenson.
The two new data center structures on the permits appear small by Apple's current data center standards. The company owns a 107,000 square foot facility originally built by WorldCom/MCI for web hosting in Newark, CA, built a 500,000 square foot data center in Maiden, N.C., and is currently building two 338,000 square-foot buildings in Prineville, OR.
However, there is lots of land (345 acres) reserved by Apple at the Reno site, a parcel that's about as large as the Maiden and Prineville plots combined. Only 63 acres of that are addressed in the current MILLS 2 project phase.
There were also two additional permits granted for the site's master developer Unique Infrastructure Group and its contractor Q&D Construction, related to well houses used to pump and store water essential for cooling the data centers planned by Apple and others that will be building on the now mostly vacant land.