Apple's moving the earth for its iCloud site in Reno, Nevada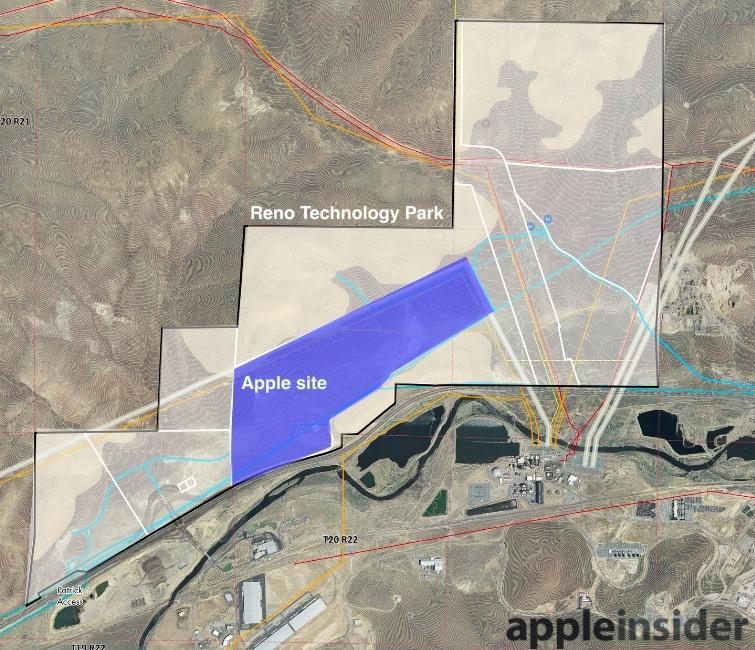 AppleInsider is supported by its audience and may earn commission as an Amazon Associate and affiliate partner on qualifying purchases. These affiliate partnerships do not influence our editorial content.
While work progresses on Apple's third data center in Prineville, Ore., a massive fourth facility is being constructed near Reno, Nev. AppleInsider offers an exclusive look at the heavy machinery clearing space for a major new data center building designed to host Apple's iTunes, App Store and other iCloud online services.
Lots of land for Apple's data center expansion
On Wednesday AppleInsider outlined the early completion of an initial structure built on the site of Apple's Reno Technology Park project. That small facility is the proverbial tip of the iceberg.
Apple has reserved a central section of 345 acres (outlined in blue, above) within the 2,200-acre Reno Technology Park (highlighted in white) to build a vast new data center now under construction. It will be the third Apple has built itself and the fourth that the company operates in the US.
For comparison, the company's Cupertino, Calif., corporate headquarters at Infinite Loop sits on just 32 acres, and the new "spaceship" Apple Campus 2 will be built on 175 acres, roughly half of the size of the company's recently acquired Nevada parcel.
The first data center Apple built, in Maiden, N.C., sits on 183 acres (Apple has also purchased an additional 70 acres next to it), and the Prineville site sits on 160 acres. This means Apple has already allocated enough land in Nevada to double its developed (or under development) data center acreage.
Apple's total acreage reserved for known data centers in the U.S. (758 acres) is nearly the size of New York City's Central Park (800 acres), about three quarters the size of San Francisco's Golden Gate Park (at just over 1000 acres) and nearly seven times the area of the Vatican (110 acres).
Of course, the locations Apple chose for its data centers are all far more appropriate locations for the massive buildings full of servers and vast arrays of solar panels (which currently cover about half of the original Maiden site).
Nevada site was being used for... dirt
Prior to being planned out as the Reno Technology Park just a few years ago, the land Apple is now using in Nevada was primarily used to "pound sand", as the area is covered with sediment dirt that's useful in construction. On top of the sand there's a littering of black chunks of volcanic rock (below).
There's no nearby volcanoes, however. All that rock was carried hundreds of miles to the site by glaciers, resulting in a stark desert landscape that supports little more than the patches of grass and brush that can survive under the hot dry summers and cold winters of the arid climate.
South of the new tech park is the existing 107,000-acre Tahoe Reno Industrial Center, which hosts a variety of manufacturing and power generation facilities and serves a logistics hub for the Western US, including shipping centers for PetSmart, Toys-R-Us and Walmart. The site bills itself as "the largest industrial center in the world."
One main attraction to the area is that nothing goes on there: It's rated by the Department of Homeland Security as within America's largest "Safety Zone," given that it is "minimally seismically active," experiences little threat from tsunamis, hurricanes, tornadoes, floods, or ice storms, and is located far away from any nuclear power plants.
Moving the earth for iCloud
One of the most prominent current signs of activity at the site are large earth moving trucks accompanied by large temporary water storage tanks and gigantic trucks tasked with wetting the dirt to prevent dust issues.
Apple's current project, listed as "MILLS 2" on a prominent construction sign at the site, recently got underway on a 63-acre area adjacent to the initial, small scale server building the company just completed.
Flattening and preparing the site for Apple's first big data center building is now underway by a dozen huge trucks, from graders to dump trucks to vast articulated water tankers (a portion of the activity is shown below).
Next to big off road construction equipment, even the full size pickup trucks in the parking area look tiny (below).
Dust is controlled by series of water trucks that spray down the exposed soil (below). This activity is going on right next to the initial pilot data center building.
Despite the vigilant watering, blowing dust is still an issue (you can almost taste it, below), and will be until the site's roadways are paved and the surrounding ground is landscaped around the new construction.
The scope of Apple's data center project is not just impressive, but essential for the region, which has been hit hard by the economic downturn. Reno has fallen from being the tenth fastest growing city in America to having one of the highest unemployment ranks.
"What Apple has done for this community is unbelievable," a local developer told AppleInsider, detailing the company's "innovative thinking" directed to solving problems and its "corporate objective" aimed at building the greenest data centers in the world.