Apple seeds OS X 10.8.4 beta build 12E55, asks developers to focus on Windows File Sharing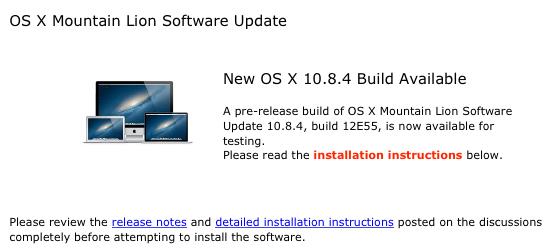 Apple on Friday released the latest OS X 10.8.4 beta to developers, dubbed build 12E55, though the release notes don't point to an imminent public release.
The new beta comes a little over one week after the last build 12E52 was seeded, which also contained no new information regarding the upcoming maintenance update.
The eighth beta build asks developers to focus on Wi-Fi, Graphics Drivers and Safari, areas that have been of interest since the first beta was issued in April. New to the list is Windows File Sharing, though further information on the feature was not supplied.
In a previous build, a line of code was discovered suggesting Apple is looking to support the 802.11ac Wi-Fi protocol in a future Mac refresh.
Developers can download the latest seed through Software Update or Apple's Developer webpage.