Apple CEO mum on 'iWatch,' but praises Nike FuelBand & pans Google Glass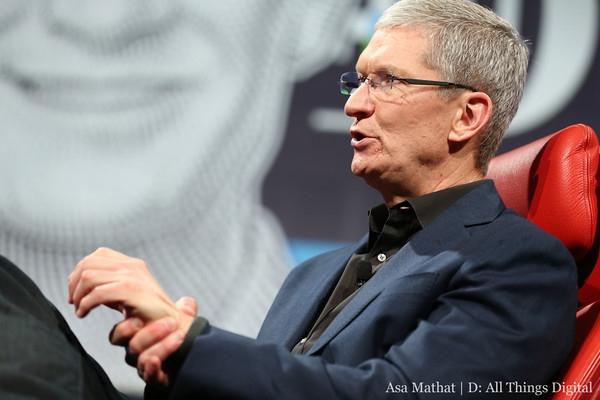 Apple Chief Executive Tim Cook unsurprisingly declined to reveal any details about his company's future products at D11 on Tuesday, but he did offer some general comments on the emerging wearable device market.
Apple CEO Tim Cook at the D11 conference. | Source: AllThingsD
Pressed by journalists Walt Mossberg and Kara Swisher on wearable computing, Cook

">admitted that

he finds the market to be an interesting space. He said he believes a large number of companies will sell competing wearable devices, but declined to say whether Apple will be one of those companies.
Cook did, however, reveal that he's a fan of the Nike FuelBand fitness tracker. He said the fitness company did a "great job" on the product, which connects to the iPhone, and revealed that he regularly uses the device.
As for Google Glass, Cook said he doesn't believe the search company's headset will become a mass-market item. He sees Google Glass being a niche product for certain markets.
While glasses may not be the direction the wearable computing market will head in Cook's eyes, he did say he felt the space is "ripe for exploration." He suggested that the wrist might be a more natural location to place a device.
But any such device must be much more than simply a computer worn on the wrist, the Apple CEO said.
"The whole sensor field is going to explode," he said. "It's a little all over the place right now. With the arc of time it will become clearer."
Last week, well-connected analyst Ming-Chi Kuo of KGI securities suggested Apple is likely to release a so-called "iWatch" device in late 2014 with a focus on biometrics. He said the device will have a screen size between 1.5 and 2 inches, and will offer deep integration with existing iOS devices, like the iPhone and iPad.
As for those current devices, Cook was asked by Mossberg and Swisher about the dominant presence of Android in the market. Cook countered by noting that Apple makes the most music players and tablets, but not phones or PCs.
The CEO said he doesn't have his "head stuck in the sand" regarding the successes of Android in the smartphone space, but he also noted that winning at Apple isn't about making and selling the most products.