Google Play Music All Access coming soon to Apple's iOS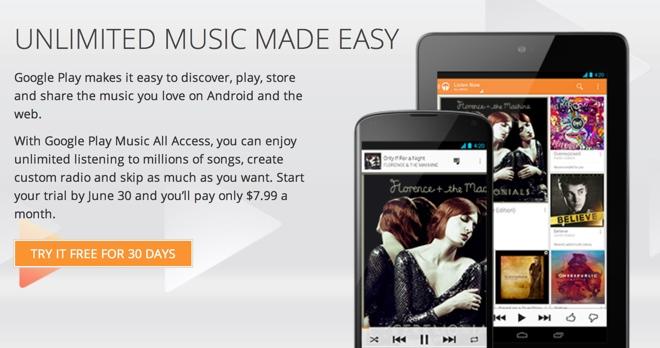 At the D11 conference on Thursday, Google announced that its Play All Access subscription music service, announced earlier this month for other platforms, will also arrive on Apple's iOS platform in the coming weeks.
The announcement was made by Sundar Pichai, senior vice president for Android, Chrome and Google Apps at the search giant. The service is Google's Spotify competitor, allowing users to access unlimited music with a monthly subscription.
In addition to similarities to Spotify, Google Play Music All Access also borrows elements from popular Internet radio service Pandora, allowing users to start a radio station from an individual track.
The service was announced earlier this month at Google's annual I/O developers conference. While the initial announcement encompassed Android smartphones and desktop browsers, Google has now revealed it also plans to bring cross-platform support to the iPhone and iPad.
Google Play Music All Access will also suggest new releases and other tracks that Google's algorithms think users will enjoy based on their listening habits. All Access will also allow users to blend their own tracks stored on the Google Play cloud service.
The imminent arrival of All Access on iOS comes as Apple is said to be working on its own so-called "iRadio" service. Recent reports have pegged Apple's alternative to launch as soon as this summer.
Unnamed sources in the music industry have indicated that Apple has been working behind the scenes to obtain the necessary rights from major publishers. It's been suggested that the "iRadio" service will be a custom streaming solution similar to Pandora.