Samsung, Google to scale back giant screen sizes on new Android phones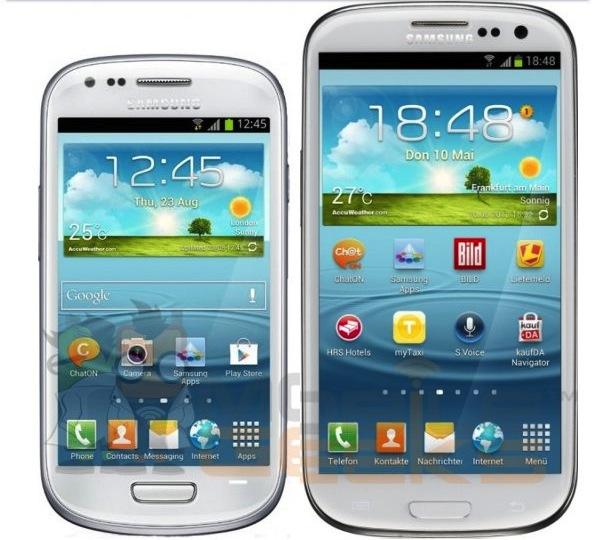 AppleInsider may earn an affiliate commission on purchases made through links on our site.
While Apple has been the subject of incessant queries wondering when it will follow Samsung and Google's Motorola subsidiary in making a big screen iPhone, both Android licensees are now planning new phones with screens closer in size to iPhone 5.
Android scales back the big
Samsung is releasing two "mini" 4.3 inch variants of its flagship Galaxy S4, reports BGR, one called the G4 Zoom with a 16MP camera, and another which launched today as the G4 mini.
While both new devices will have a screen much closer in size to Apple's 4 inch iPhone 5 released last year, they will be equipped with a "qHD" resolution of 960-by-540 pixels, considerably less than the 5's Retina Display at 1136-by-640 pixels, and even slightly less than the 960-by-640 pixel iPhone 4 released in 2010.
Last October, Samsung similarly launched a mini version of its S3 (depicted below), equipped with a 4 inch screen but an even lower resolution of 800x480 and a camera limited to 5MP captures. The product was unveiled under the headline "how big small can be."
Google's influence at Motorola is also resulting in a shift from "bigger is better" to simply "better is better," according to a report by Sascha Segan of PC Mag.
"We've been spending the past eight months on this next generation of phones, and we've all seen positive feedback and collaboration around things," the report cited Motorola's design chief Jim Wicks as saying.
He added, "Certain people like a large screen. But there's a sweet spot for consumers that we're currently exceeding in the market. There are some people that like a big display, but there's also a lot of people that want something that's just about right. I think 'just right' is important, and we're designing so we don't disappoint those people."
Segan described the news of smaller phones from Motorola as "music to my ears" and stated that Motorola is "the only Android phone maker I've spoken to recently that's willing to push back against the current trend of larger and larger phones."
When bigger isn't better, but smaller is even worse
Writing for Gigaom, Kevin C. Tofel similarly asked "one has to wonder how big 'too big' is. At this rate, could Android smartphones outgrow their user base as one-handed phone use disappears?"
Rather than just discussing screen size trends, Taylor Martin of the PhoneDog blog noted that among Android licensees, smaller screen size offerings are tied to lower end phones.
"What's so hard about making smaller high-end phones?" he asked, noting that Apple's iPhone 5 is "the only high-end smartphone smaller than 4.3-inches."iPhone 5 is "the only high-end smartphone smaller than 4.3-inches."
Addressing Samsung's Galaxy S3 mini offering released after iPhone 5, Martin stated that "the only resemblance the Galaxy S III mini has to its larger sibling is the name and outward design. Specifications are far from the original, making many scratch their heads as to why this device is even considered a miniature version of the S III, or why it has the 'S' branding to begin with."
He added, "if you want an Android device smaller than 4.3-inches, although whatever device you choose will undoubtedly be easier on your wallet, you're looking to take a serious hit in performance, capabilities and quality."
Apple says it's paid to know best
Prodded to reveal his company's product plans for larger screens in the Android mold, Apple's chief executive Tim Cook answered that "a large screen today comes with a lot of tradeoffs.
"Customers are clearly looking at the size," he said, "but they also look at things like 'do the photos show the proper color?' The white balance, the reflectivity, battery life, the longevity of the display."
Cook then stated that Apple's customers want the company to study those factors and make well considered decisions as to what is "best." So far, this has resulted in just one change to the iPhone's screen size across six years.
Rather than just steadily increasing the screen sizes of its mobile devices (as Apple has done for more than three decades of desktop computers and notebooks, and across a range of flagship iPods sold over the past decade) the company has held onto offering just a very limited number of form factors for its iOS devices.
This is not because the company does not know how to make larger devices.
Apple's first handheld device, the Newton MessagePad, originally sported a 5.2 inch screen when it debuted nearly twenty years ago in late 1993. Subsequent models got smaller screens measuring 4.5 inches, with a final batch sporting 6.1 inch displays before the PDA line was canceled by Steve Jobs in 1998.
If Apple wanted to make 6 inch devices, it wouldn't need to look to Samsung for ideas on how to do this. It could look back into its own rather ancient history of mini-tablets that ultimately didn't sell well.
It's also noteworthy that, when Samsung tried to make a Tablet PC ten years later in partnership with Microsoft, the results were so poor that when CNET pitted the 2006 Samsung Q1 against a 1997 Apple Newton MessagePad 2000, it awarded the decade old Newton as the overall winner.
Nine years after canceling the MessagePad, Apple returned to full screen handheld devices with the 3.5 inch iPhone and iPod touch. It then released a 9.7 inch iPad in 2010. Over the last year, Apple introduced its 4 inch iPhone 5 (and matching iPod touch) and a new 7.9 inch iPad mini.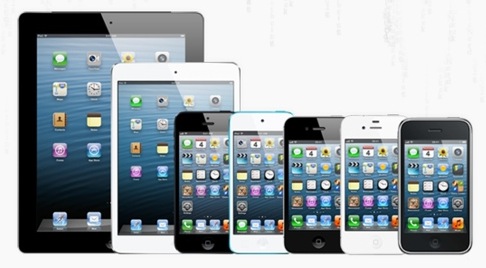 Apple thinks about apps
The new iOS devices were designed to work seamlessly with existing iOS apps, with little or no developer modifications needed to avoid stretching or scaling images or content on the screen.
Apple's tight integration between its hardware releases and its apps ecosystem is markedly different than the offerings of Android hardware licensees like Samsung, which now offers a bewildering range of smartphone, phablet and tablet sizes and resolutions, none of which are really optimized to run either mobile or tablet apps.
This results in poor utilization of the extra screen size when running apps on Android tablets and very large smartphones, as Apple's head of product marketing Phil Schiller drew attention to at the release of iPad mini last fall.
Schiller noted a "night and day" difference between tablet-optimized iPad apps and the stretched smartphone apps that work on Android tablets (above, TripAdvisor on both).