Intel makes 'Thunderbolt 2' official with 20Gbps speeds, late 2013 launch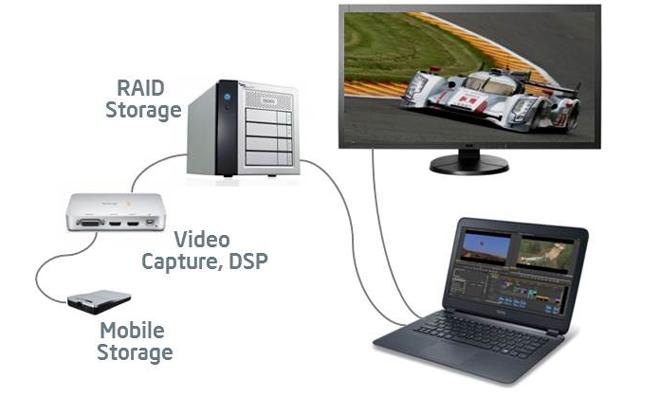 Intel on Tuesday finally put a name to its next-generation Thunderbolt protocol as "Thunderbolt 2," with the newly dubbed standard doubling the throughput of its predecessor while remaining backward compatible.
Previously referred to by its codename "Falcon Ridge," Thunderbolt 2 will boast a bandwidth of 20Gbps, which Intel said is good enough for the simultaneous transfer and display of 4K "Ultra HD" video.
To double the speed, Intel is using a new controller chip that combines the first generation Thunderbolt's 10Gpbs uni-directional channels into a single 20Gbps bi-directional channel. In addition, Thunderbolt 2 will carry support for DisplayPort 1.2, enabling video streaming to one 4K monitor, or dual QHD displays.

Because the next-generation protocol is, in essence, a modified controller chip, Thunderbolt 2 requires no new cables or accessory hardware, meaning it will be completely backward compatible with existing Thunderbolt products.
While Thunderbolt has yet to see wide adoption outside of Apple's Mac lineup, Intel claims 30 PCs and motherboards now use the I/O tech. That's in addition to the 80 peripherals and accessories that made their way to market since Thunderbolt first debuted with Apple's late-2011 Mac lineup.
Despite being marketed as a cutting-edge interconnect technology targeting professionals in the video field, Apple still does not offer Thunderbolt in its Mac Pro tower.
In a report last week, Intel told AppleInsider that it plans to extend the standard's reach beyond the few product that currently use the tech, and has up to now focused on quality over quantity.
The chip maker has yet to nail down a specific date on Thunderbolt 2's release, but said it should be in production by the end of 2013, with a ramp into 2014.