Apple bumps into some third party apps to extend iOS 7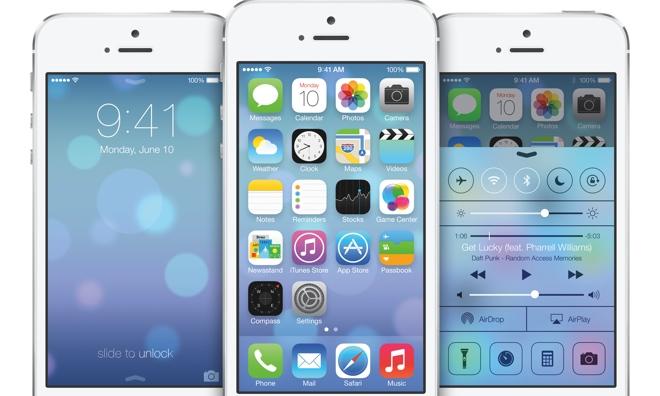 AppleInsider is supported by its audience and may earn commission as an Amazon Associate and affiliate partner on qualifying purchases. These affiliate partnerships do not influence our editorial content.
Apple's new iOS 7 appears to step on the toes of a variety of third party developers by incorporating their apps' functionality directly into the platform.
Attention App Store developers: Apple isn't afraid to extend new versions of iOS in directions that may overlap your own goals.
After thirty years of carefully avoiding most direct competition with its third party developers' apps, the new iOS 7 appears to ready to bundle useful app functionality directly into the platform whenever it makes sense.
Apps now in the iOS
Some of the most prominent examples: the new iTunes Radio (shown below) takes on a market formerly left to third party apps such as Pandora, leveraging the ubiquity of iTunes and integrating the service with iTunes Match.
The new Camera offers a lot of feature overlap with Instagram, making it a natural way for iOS users to capture photos (including Instagram-like square pictures), apply filters, and share with various services.
Additionally, Photos expands support for Photo Stream to include both photo and video sharing, including shared, collaborative albums. That's a 'killer app' feature that drives much of current interest in Facebook.
The new audio FaceTime not only takes on voice chat apps like Skype, but also brings Apple into increased competition with mobile carriers and the practice of billing users per minute to use old fashioned telephony networks rather than just providing raw data service.
The new Control Center even incorporates a rapidly accessible "flashlight" for activating an iPhone's LED, virtually erasing the demand for such dedicated flashlight apps.
The new Weather widget also more directly encroaches upon the market for third party weather apps.
As several readers have noted, Apple's new iCloud synched Keychain for passwords and other secure data integrate the features of third party apps such as 1Password and LastPass on both iOS and OS X.
Platform vs Apps
These certainly aren't the first occasions Apple's direction has steamrolled or obsolesced third party software. Last year's iOS 6 very clearly cut Google out of the picture in Maps, but Google started that competitive game (a game Apple is extending with the new Siri's now default use of Microsoft's Bing to look up information on the web).
And while Apple has also competed against Microsoft's Internet Explorer and Office apps with its own Safari and iWork apps, few could be much concerned about competition between giants. However, when Apple begins stepping on the work of small developers, there's often more populist concern for the little guy.
In the early development of Mac OS X, Apple first outraged minor app developer Karelia when it debuted a new version of its Sherlock search tool in 2001 that effectively killed the developer's existing Watson (below).
In 2003, Apple unveiled its web-based Dashboard widget layer that similarly sidelined Konfabulator (below). And a variety of core bundled OS X apps have erased much of the potential market for third party email, PDF, music, chat and other software.
On iOS, Apple had initially seemed to be content working on the platform for third parties to use. This sits in marked contrast to other mobile platforms such as Google's Android, which offered its own GPS turn-based directions app since 2009, for example.
Microsoft's Windows Phone similarly directs more attention to its own features rather than showcasing third party apps, in part because its so difficult to launch a new platform and magically collect a vast collection of third party titles for it.
That's not entirely new, given the appearance of features like GameCenter (which destroyed OpenFeint) or even Apple's own expansion of Maps in iOS 6 that, like Google Maps on Android, began directly competing against third party GPS and directions apps last year.
But developers working on features that are clearly in the path of Apple's future strategic directions should take note: the company isn't afraid to delight its own users at the expense of smaller, slower moving businesses in its way.