Inside iOS 7: Apple puts Pandora on notice with iTunes Radio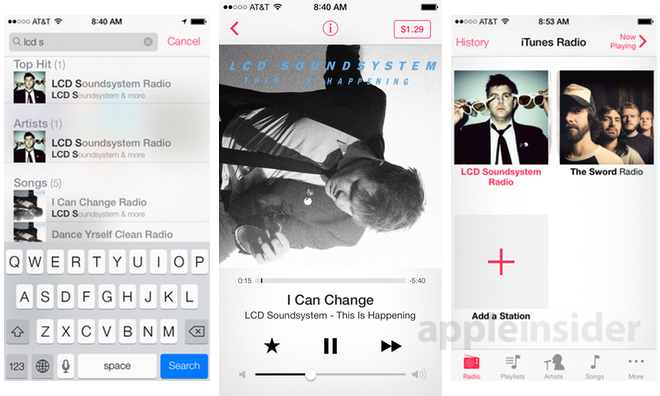 Apple's long-awaited "iRadio" is now an official service under the name iTunes Radio, available to test by developers who have access to the iOS 7 beta.
iTunes Radio is the first thing developers will see when they launch the revamped Music application in iOS 7. The service's functionality and performance are virtual identical to Pandora, the company that has long been the king of Internet streaming radio stations.
Users simply add a new station by searching for an artist name or song title. From there, iTunes Radio will intelligently assemble a mix of songs with a similar sound, allowing users to discover new artists.
One of the key drivers for Apple and record labels alike is music discovery. All of the content streamed through iTunes Radio is available for purchase through the iTunes Store, allowing users to own the song and listen to it at their convenience.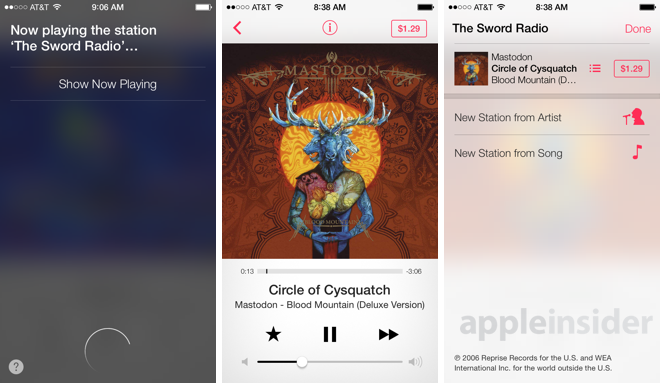 Every song currently streaming features an option to purchase in the upper righthand corner. Users can simply tap the price, then select "Buy Song" to purchase the track.
More information about the current song and artist is also available with an "i" button centered at the top of iTunes Radio. From there, users can view a full list of songs from that album on the iTunes Store, or also create a new iTunes Radio Station from that artist or particular song.
The information pane also includes the necessary copyright and licensing information for that particular track. Apple has also promised that users will be able to "tune" the station, placing an emphasis on top hits, discovery, or a mix of the two, but this function does not currently appear in iOS 7.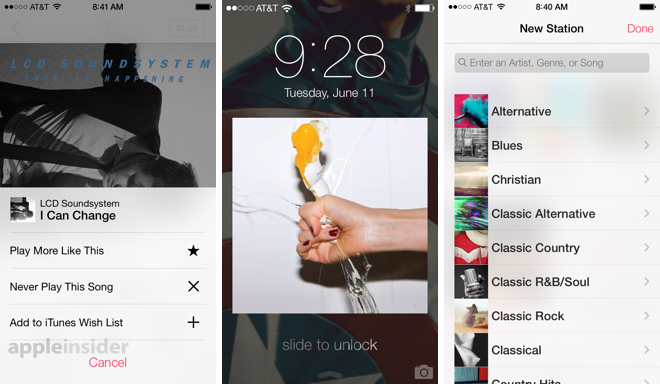 Users who subscribe to Apple's iTunes Match service for $24.99 per year will be able to listen to iTunes Radio without any commercial interruptions. That capability comes in addition to the scan-and-match cloud syncing functions already available through iTunes Match.
Apple has also said that iTunes Radio will use scans of a iTunes Match subscriber's entire music collection to make streaming stations more personalized.
One restriction an iTunes Match subscription doesn't appear to allow users to bypass is multiple song skips. After skipping six tracks on a specific station, the skip button will become greyed out, though users can begin streaming a new song by starting another station and returning to the previous one.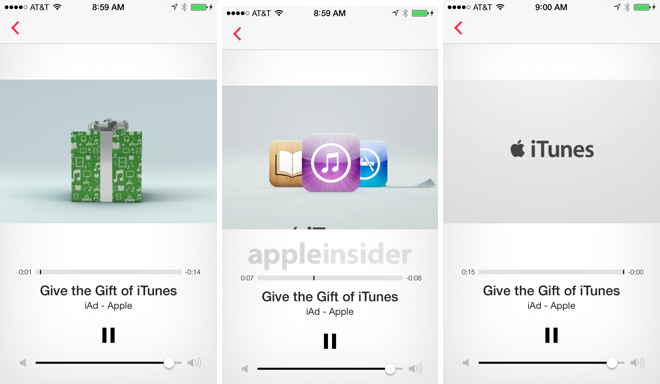 Those who don't subscribe to iTunes Match will hear — and see — the occasional iAd. Currently, before its launch to the public, iTunes Radio ads are driven by Apple, prompting users to "Give the Gift of iTunes" with a quick 15-second clip. If the iPhone screen is locked, only the accompanying audio plays.
Non-subscribers will also see a "Download on iTunes" link on the iPhone lock screen when streaming content from iTunes Radio. In the current beta, iTunes Match subscribers are not presented with the advertisement on the lock screen, and will only see the appropriate album art.
Users can also launch their own iTunes Radio Stations by speaking to Siri. Simply ask the system to play a specific station saved in iTunes Radio, and the music will begin to stream.
iOS 7 is scheduled to arrive on iPhone, iPad and iPod touch this fall. AppleInsider will have ongoing in-depth coverage of Apple's new mobile operating system ahead of its public release.