Apple looks to bring developers into the iAd fold with Workbench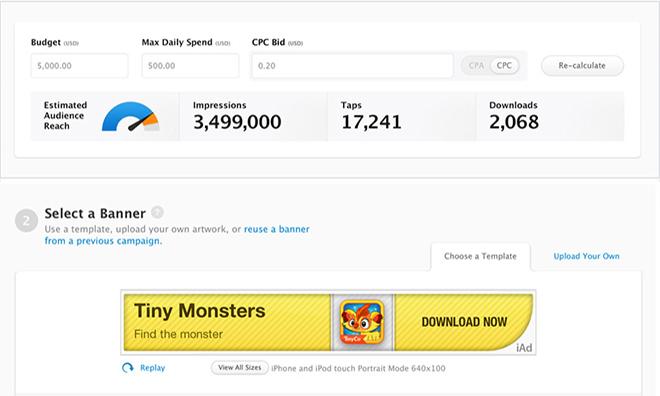 New APIs and user-facing features aren't the only things Apple pushed out to developers at this week's Worldwide Developers Conference, as the iPhone maker has also expanded its iAd platform in an effort to make it more appealing to app publishers.
Apple on Wednesday rolled out the new iAd Workbench, a tool that allows developers to promote their apps across Apple's advertising platform. The new service provides a dashboard for developers to generate targeted banner ads for their apps, leveraging Apple's knowledge of user behaviors to let app makers see what they will be spending and what impact they can expect an ad buy to have. Developers are able to try out ad buys on Apple's network for as little as $50.
Screenshots from Workbench show an interface wherein users input their ad buy budget, maximum daily spend, and cost-per-click bid, with the system then computing estimates of how many users will likely see an ad, click on it, and download it. Workbench has both automatic targeting options and manual targeting options.
The manual setting allows developers to fine tune their targeting, aiming for users by their app preferences, movie preferences, and so forth. The auto setting has iAd determine the right audience for an app.
Workbench also has an array of tools and analytics aimed at helping developers optimize and refine their ad campaigns. The service's dashboard reveals performance data in the form of charts, with metrics including total impressions, taps, average cost-per-click, and total downloads.
In addition to the targeting options, iAd Workbench helps developers make their own banner ads using built-in Apple-designed templates. This feature scales automatically across devices if an ad is meant to run across both iPad and iPhone. Users can also upload their own ad content if they choose.
Workbench marks a shift for Apple's iAd platform, which the Cupertino company has typically geared toward advertisers of goods and services. In targeting developers more specifically, Apple is leveraging its own intimate knowledge of user behaviors in the App Store, Music Store, and Bookstore and turning that into actionable data for app developers.
Though iAd recently became the first mobile platform to gain accreditation from the Media Ratings Council, a major advertising body, the platform has somewhat underperformed given the success of other Apple ventures.
Ad buys on iAd started out at $1 million when Apple rolled out the service. Soft demand for the service caused Apple to cut that minimum in half months after its debut. Apple continued to reduce prices on iAd buys, eventually reducing the minimum ad buy to $100,000.
All the while, Apple has sought to get more developers to use iAds in their apps. In April of last year, the company increased the share of revenue developers get from 60 to 70 percent.