Apple's iOS developer guide hints at dedicated MFi game controller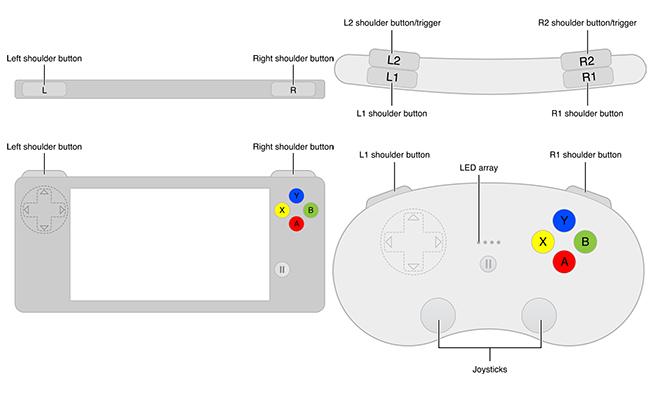 Coming on the heels of Apple's Worldwide Developers Conference keynote, and the subsequent seeding of iOS 7 beta, the company has updated its developers website with a brief guide illustrating what it has in mind for the future of iOS gaming peripherals.
While the developer page is sparse on details, it does offer at least a pair of simple drawings demonstraating possible hardware controller designs suitable for use as part of the company's MFi program.
First spotted by Touch Arcade (via The Verge), the illustrations show two different controller styles. One appears to attach to an iPhone directly, with left/right shoulder bumpers, a D-pad and four action keys essentially turning the device into a rudimentary handheld console like Sony's PS Vita. In the second embodiment, a standalone controller is shown, with a dual-analog stick design looking to be a mashup of controller designs from Microsoft's Xbox 360 and Nintendo's Wii. Both have home buttons.
While the drawings are mere examples meant for third-party manufacturers and app developers, they are the first sign Apple has given to showing interest in creating some type of standard for iOS gaming hardware.
There are existing products that can interact with iOS devices, either physically or via Bluetooth, but Apple has yet to ratify a reference design which could be used to unify the control scheme of at least some of the thousands of games in the App Store.
Previously, a rumor in March claimed Apple was courting developers at the 2013 Game Developers Conference to sign off on a controller to be released sometime in the near future, but the whispers were squashed by the well-connected Jim Dalrymple of The Loop.