Inside iOS 7: Apple automates picture organization in new Photos app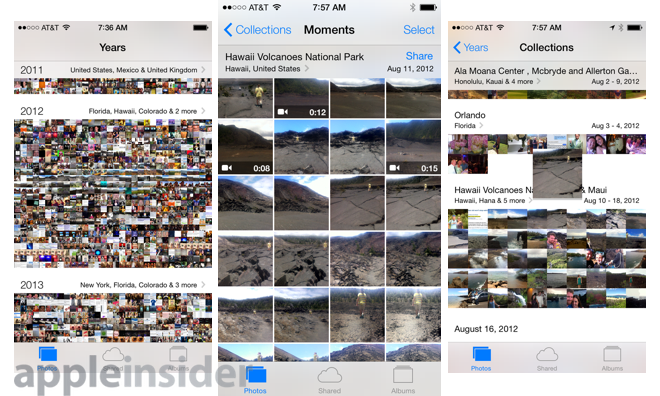 One of the biggest application overhauls in iOS 7 is the Photos app, which has been redesigned to automate picture organization and take full advantage of Retina displays.
The Photos application is now divided into three menu options: Photos, Shared and Albums. The default is Photos, where pictures are automatically organized in a way that allows users to more easily find the shot they may be looking for.
At the macro level, photos are presented based on the year they were captured. A summary of the year appears to the right, showing where the pictures were taken, and offering a nice recap of places the user may have traveled.
Taking advantage of the iPhone's Retina display, tiny thumbnails of the images are presented with just enough detail to get an idea of what the picture is. Users can hold their thumb over the tiny images to view a larger thumbnail, and release their finger to pull up that particular image.
Tapping on a general area within a year dives down deeper and presents larger thumbnails organized by date and location. To the left, cities and regions are displayed, while on the right, a range of dates are shown representing when the pictures were taken.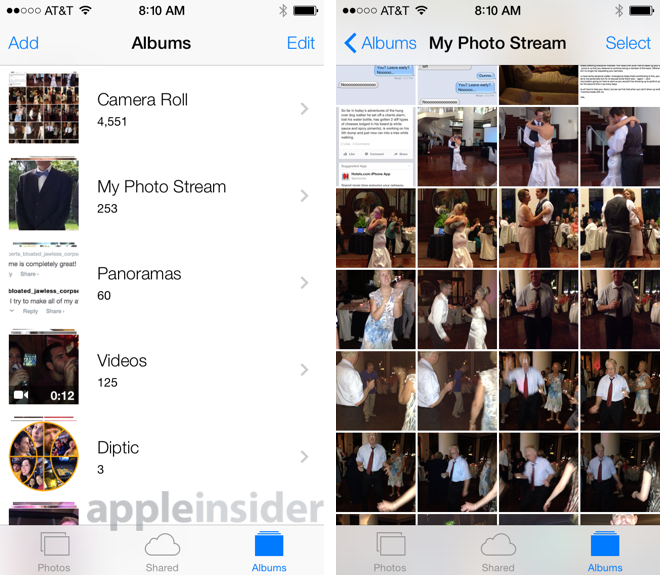 From here, users can go yet another level deeper to view pictures from an even more specific date or event. At this point, the square thumbnails are the same size as they were shown by default in previous versions of iOS.
For iPhone users who take a large number of pictures, the redesigned Photos application will likely be viewed as a long overdue change. The automated organization works well and is logical, and makes finding older pictures much simpler.
In the second menu, Shared, users can create their own photo or video stream with iCloud. These images can be shared with friends, who can then comment or even add their own images from directly within the Photos application.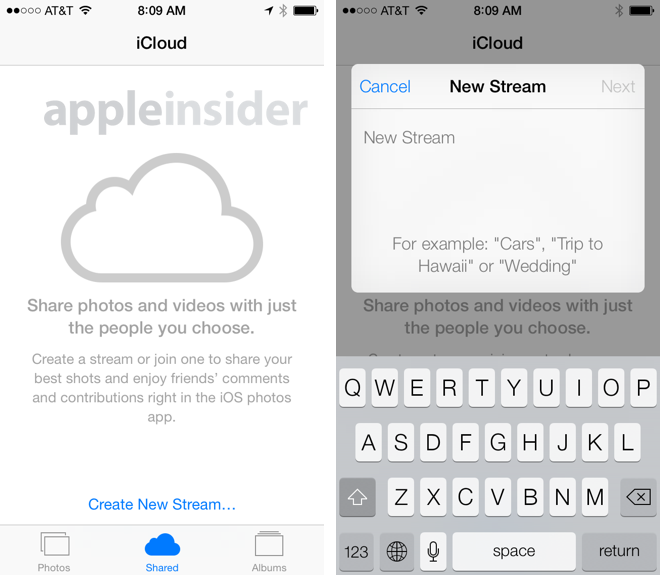 Finally, the Albums menu offers the traditional Camera Roll that was found in previous versions of iOS. For those who may prefer the old way that photos were displayed en masse, this legacy option remains.
Apple has also tweaked image folders in iOS 7 to automatically place panoramas and videos captured through the default camera application into their own separate spaces. Applications that can separately capture or edit photos may also create their own folders for easier organization.
Like in the rest of iOS 7, Photos gains new sharing functionality, including AirDrop for instant wireless transmission to local iOS devices. At the moment, AirDrop is not compatible with Macs.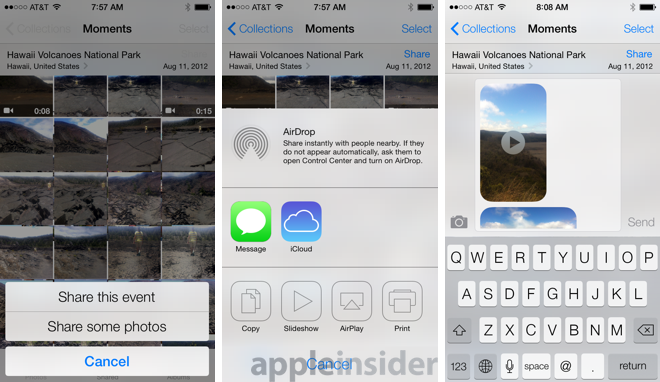 Users may also share pictures through a text message, e-mail, iCloud, Twitter, Facebook, or Flickr. iOS 7 also includes built-in support for uploading videos to YouTube and Vimeo.
A final row of options for images includes: Copy, Slideshow, AirPlay, Assign to Contact, Use as Wallpaper, and Print. For videos, the options are Slideshow and AirPlay.
iOS 7 is currently in beta, and will become available publicly for iPhone, iPad and iPod touch owners this fall. For more in-depth information on iOS 7, see the other parts in AppleInsider's ongoing Inside iOS 7 series.