Benchmarks may reveal Haswell-powered gains in Apple's next 13" MacBook Pro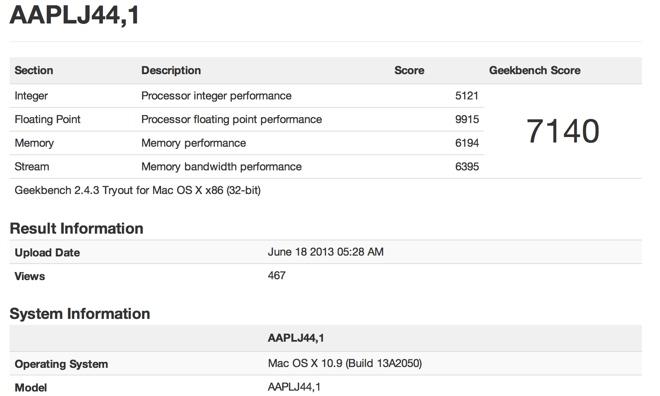 Performance tests for an unreleased MacBook Pro model have appeared online, potentially offering a hint at Apple's next generation of professional notebooks powered by Intel's new Haswell processors.
A Geekbench score for a new MacBook Pro running OS X Mavericks identified as "AAPLJ44,1" was posted to the Primate Labs website this week. As noted by MacRumors, the hardware appears to be a 13-inch model with a Core i5-4258U processor clocked at 2.4 gigahertz.
Like the alleged Mac Pro benchmark that also appeared online this week, the new MacBook Pro appears to be running a specialized build of Mavericks, Apple's forthcoming Mac operating system update. The OS X build is identified as "13A2050."
The unidentified MacBook Pro earned a Geekbench 2 score of 7,140, outperforming Retina display MacBook Pro models released earlier this year with Ivy Bridge processors at faster clock speeds of 2.5 gigahertz and 2.6 gigahertz. But the new "AAPLJ44,1" hardware with a Core i5 CPU is still slower than existing models with high-end Core i7 Ivy Bridge processors.
The modest performance gains seen in the unreleased hardware suggest that, as with Apple's newly released MacBook Air lineup, the focus with this generation of hardware will be on battery life. In particular, the new 13-inch MacBook Air released last week is advertised to offer up to 12 hours of battery life, but real-world tests have found that the machine can even outperform that.
Much of the battery life gains seen in the new MacBook Air models are possible because of Intel's Haswell generation of processors. While the ultra-low voltage CPUs found in the new MacBook Airs saw performance improvements between 3 and 8 percent, power consumption was cut by 25 percent.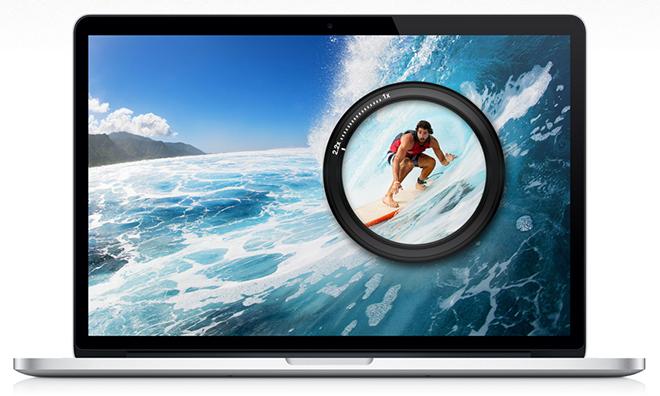 Apple is expected to refresh its MacBook Pro lineup in the near future, as inventory of the 13-inch model has periodically become constrained in recent weeks. Well-connected analyst Ming-Chi Kuo of KGI Securities accurately said in April that Apple's new Haswell-powered MacBook Pros would not be ready in time for last week's Worldwide Developers conference, due to low yields of the notebooks' Retina displays.
Kuo also said earlier this month that the new 13-inch Retina MacBook Pro would feature a slightly thinner chassis than its predecessor, while gaining a higher-quality 1080p FaceTime HD camera.