Apple's iPhone 5 headed to Virgin Mobile USA next week for $550 off-contract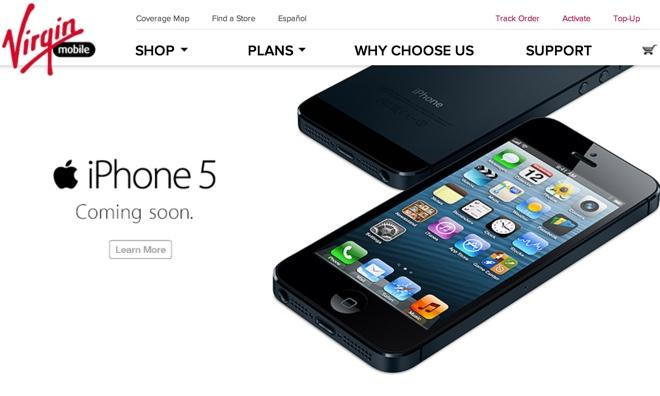 AppleInsider may earn an affiliate commission on purchases made through links on our site.
Virgin Mobile will be the next U.S. carrier to receive Apple's iPhone 5 next Friday, when the base-level 16-gigabyte model will become available for $549.99 without a service contract.
When it launches on June 28, the iPhone 5 will be compatible with the carrier's "Beyond Talk" plans, which can be purchased for as little as $30 per month. The 32-gigabyte iPhone 5 will be available for $649.99, while the high-end 64-gigabyte capacity will be $749.99.
A Virgin Mobile Beyond Talk plan includes 2.5 gigabytes per month of full-speed data at 3G and 4G speeds. Data is throttled after users reach the maximum monthly limit.
The plan is available for $35 per month with 300 anytime minutes, but Virgin offers customers a $5-per-month plan discount if they sign up for automatic monthly payments with a credit card, debit card, or PayPal account. That means Virgin Mobile subscribers can obtain a new plan with unlimited messaging and data for $30 per month.
A jump to 1,200 anytime minutes is $45 per month, while unlimited calling runs $55 per month. Both are also qualified for the $5-per-month discount, bringing their prices down to $40 and $50, respectively.
Virgin Mobile began offering a 15 percent discount on iPhone 4 and iPhone 4S handsets a month ago. The company first started sales of Apple's iPhone a year ago, in June of 2012.