iPhone apps need to earn $47K per day to crack App Store's top 10 grossing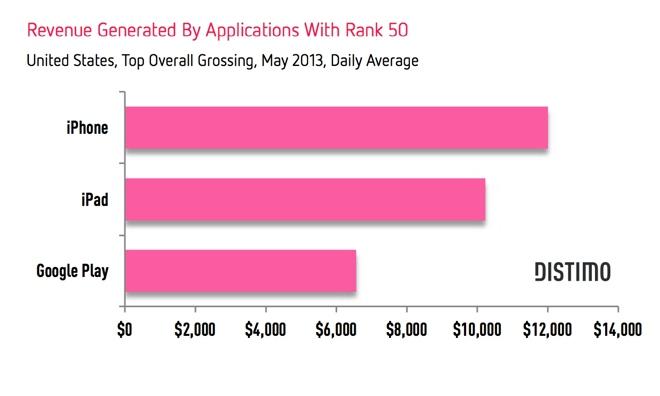 To be listed among the top 10 paid applications on the iOS App Store, software must average around 4,000 downloads per day, while a top grossing app must earn $47,000 per day, a new study has revealed.
The figures come from the June edition of mobile app analytics firm Distimo, in its monthly publication on iOS App Store trends. The report, provided to AppleInsider on Friday, reveals that an application ranked No. 10 on the paid charts generates 4,000 downloads per day on average in May 2013.
To crack the top 10 grossing App Store applications, a developer must rake in $47,000 per day. iPhone apps that ranked No. 50 generated an average of $12,000 per day.
Among free applications, the No. 10 spot averaged 72,000 downloads per day on the iPhone. Securing a spot in the top 50 required 23,000 downloads each day in the month of May.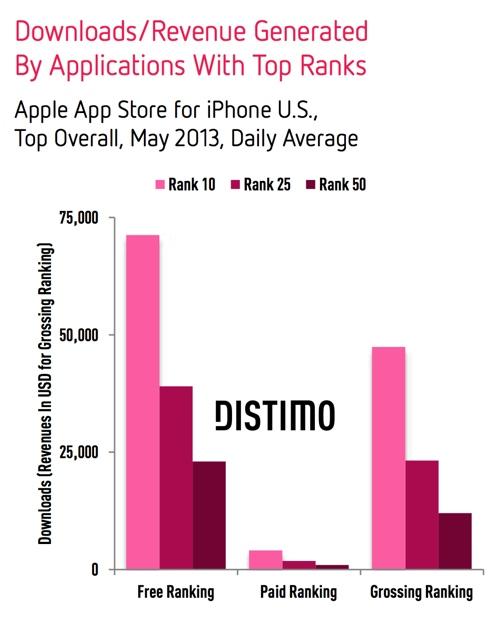 For iPad-only applications, entering the top 50 grossing downloads required an average of $10,200 per day. And breaking into the top 50 free downloads on the iPad required at least 8,200 downloads a day, or about 2.8 times less than on the iPhone App Store.
In contrast, the Google Play store or Amazon's Appstore require much fewer downloads and income to rank among their respective top 50 lists. For example, the No. 50 top grossing app on Google play earned $6,600 in May, almost half that of the iPhone App Store.
In terms of volume, it took just 2,500 downloads per day to reach the top 50 in the Amazon Appstore, which was about nine times less than Apple's iPhone App Store. And the threshold for a top 50 grossing spot on the Amazon Appstore was 2.8 times lower than the iPhone App Store.

Finally, Distimo also found that it's much more difficult to break into a top 10 list on the App Store on weekends, when the number of downloads surges. Thursday is the day of the week when the least amount of downloads are necessary to rank among the top options on the App Store.
In its last report, Distimo revealed that the top applications on iOS earn 4.6 times more than Android's Google Play. But the data also showed that Google has managed to increase its share of mobile revenue significantly throughout the first half of 2013.