Spotify for iOS adds 'Discover' feature, Reeder gains Feedly support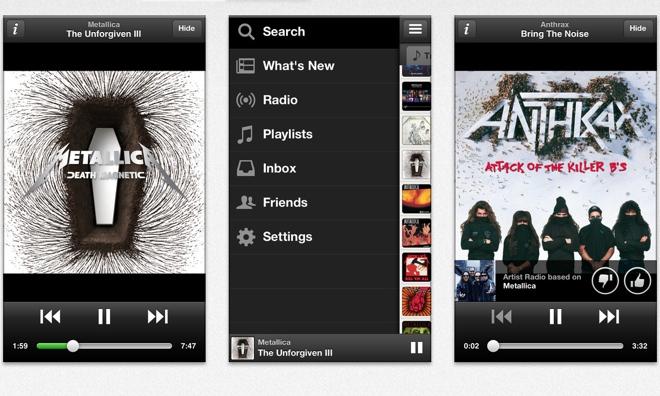 Spotify's official iOS application was updated Tuesday with a new "Discover" option that allows users to find new music based on their listening habits. Separately, after the shutdown of Google Reader, Reeder for iPhone has been updated with sync support for Feedly and also Feed Wrangler.
Spotify
Popular media streaming service Spotify has been updated to version 0.7.1, adding the new "Discover" experience for iPhone. Discover was first launched on desktop platforms in late May, and Tuesday's update marks its debut on mobile devices.
Users will now be able to receive endless recommendations based on the music they listen to, as well as new single and album releases from artists they follow. Discover also informs users when an artist they enjoy is touring near them.
The update also adds a new "Now Playing" view, featuring an "Up Next" queue on the iPhone. The new Spotify application also features an updated logo, and playlists can be edited on an iPhone.
Spotify for iOS is a free 30.4-megabyte download. U.S. users can listen to radio for free, while Spotify Premium subscribers have instant access to millions of streaming songs.
Reeder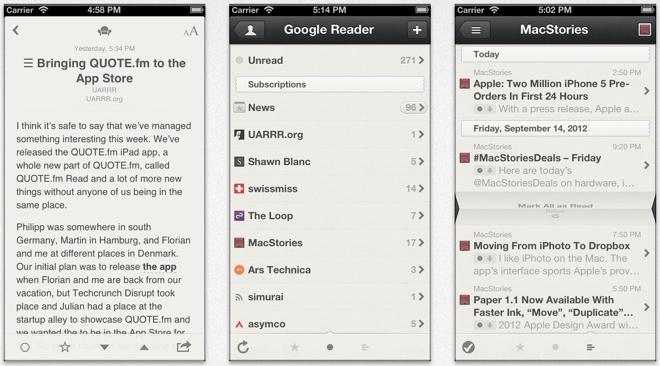 With Monday's shutdown of Google Reader, the popular RSS application Reeder for iOS was subsequently updated to version 3.2, adding two new sync services: Feedly and Feed Wrangler. Feed Wrangler does not yet support smart streams, the company noted.
The update also removes Google Reader from its service list. However, Reeder won't delete existing accounts included in the application.
Tuesday's update also includes improved syncing with Feedbin. Other feeds supported by Reeder include Fever and Readability.