Apple takes popular iOS apps free as App Store 5th anniversary approaches [u]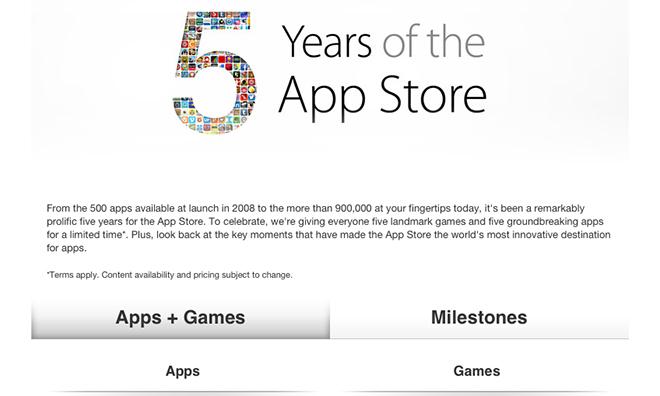 As the iOS App Store's fifth anniversary approaches, Apple has reportedly made a number of high-ranking apps free, including popular games like Infinity Blade II and relatively expensive titles like Traktor DJ.
Update: Apple has confirmed the free games and apps are indeeed in celebration of the App Store's fifth anniversary, and has subsequently collected the gratis titles in dedicated section that can be found in the iOS app. Also included on the new App Store page is an interactive milestone timeline showing pertinent events in the store's history.
First spotted by The Verge early Monday, an unknown number of iOS apps are now free to download for both the iPhone and iPad, with titles spanning across genres and price ranges.
While Apple has yet to make an official announcement regarding the free app selection, or collect them into a dedicated App Store section, it is thought that the move is in celebration of the digital storefront's upcoming fifth anniversary on July 10.
The company sent out a poster last week detailing a timeline of major App Store milestones, including explosive growth that saw 1 billion downloads in 2009, 10 billion in 2011, and 50 billion this past May. Apple also noted that the store has generated more than $10 billion for app developers to date.