Apple seeds fourth beta of OS X 10.8.5 Mountain Lion
By Katie Marsal
Wednesday, July 10, 2013, 01:18 pm PT (04:18 pm ET)
Apple on Wednesday provided its development community with the fourth beta build of OS X 10.8.5, a forthcoming maintenance and security update for its Mountain Lion operating system.




People familiar with the software said the latest build is identified as 12F20. It has no known issues.

Developers have once again been asked to focus their testing on graphics, PDF viewing, Wi-Fi, and wake from sleep functionality.

So far, beta releases for OS X 10.8.5 have arrived on a weekly schedule, with the first beta being issued to developers on June 19.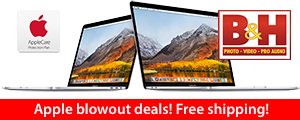 2018 13" Touch Bars
Price
Save
2.3GHz/8GB/256GB (Gray)
$1,699.00+
$100
2.3GHz/8GB/512GB (Silver)
$1,879.00+
$20
2.3GHz/16GB/512GB (Gray)
$2,099.00+
$100
2.7GHz/16GB/512GB
$2,449.00+
$50
2.7GHz/16GB/1TB
$2,849.00+
$50
2018 15" MacBook Pros
Price
Save
2.2GHz/16/256GB/555X
$2,215.00+
$185
2.2GHz/32/1TB/560X
$3,449.00+
$50
2.6GHz/16/512GB/560X
$2,575.00+
$224
2.6GHz/16/1TB/560X (Gray)
$2,999.00+
$200
2.6GHz/32/1TB/560X (Gray)
$3,399.00+
$200
2.6GHz/32/2TB/560X (Gray)
$3,999.00+
$400
Click here for dozens more configurations
+ Free shipping within the contiguous U.S.
Lowest Prices Anywhere!

13" MacBook Pros
Price
You Save
3.1GHz/8GB/256GB Gray
$1,679.00
$120.00
3.1GHz/8GB/256GB Silver
$1,704.00*
$95.00
3.1GHz/8GB/512GB Gray
$1,849.00*
$150.00
3.1GHz/16/512GB Gray
$2,099.00
$100.00
15" MacBook Pro
Price
You Save
2.8GHz/16/256/555 Silver
$2,199.00*
$200.00
2.8GHz/16/256/560 Gray
$2,299.00
$200.00
2.9GHz/16/512/560 Gray
$2,599.00
$200.00
2.9GHz/16/1TB/560 Gray
$2,999.00
$200.00
3.1GHz/16/512/560 Gray
$2,799.00
$200.00
3.1GHz/16/2TB/560 Gray
$3,899.00
$300.00

*

price with Promo Code:

APINSIDER

prices.appleinsider.com for more configurations