Selling 50% of iPhones through Apple's retail stores viewed as an unrealistic, lofty goal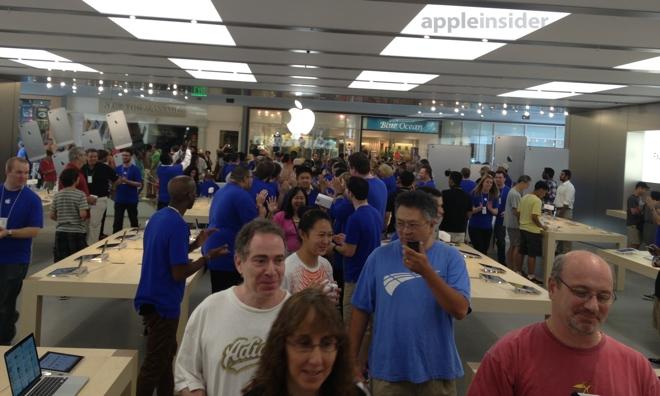 AppleInsider may earn an affiliate commission on purchases made through links on our site.
Apple Chief Executive Tim Cook apparently hopes to sell as many as half of all new iPhones in the U.S. through his company's own retail stores, but a new analysis suggests that target may be unattainable.
The company has recently begun a retail initiative in hopes of boosting sales of the iPhone at Apple Stores, rather than having customers obtain their handset through carrier partners or smartphone resellers.
One approach being attempted by the company has its retail employees talking to customers about upgrade opportunities if they bring in their iPhone to a Genius Bar for repairs. Currently, about half of all iPhones that need repair are serviced at a Genius Bar, and Cook would like to see sales figures match that share for Apple retail.
But Cook's goals may not be realistic, according to new data from Consumer Intelligence Research Partners, detailed on Wednesday by AllThingsD. That's because Apple's retail locations are already well-trafficked, and an influx of new sales may not be possible without a major increase in locations and employees.
"We don't see how their mostly jammed stores can handle more customers, sales associates and inventory," CIRP co-founder Michael Levin said to reporter John Paczkowski.
CIRP's latest data shows that the share of iPhones sold through Apple retail stores in the U.S. is currently less than 15 percent, having steadily declined from 20 percent since the launch of the iPhone 5 last September. About 30 percent of U.S. iPhones are sold through Apple's largest carrier partner, AT&T, while Verizon's share is just north of 20 percent as of June 30.
Apple's sub-15-percent share comes in third, while carriers T-Mobile and Sprint are clustered with retailer Best Buy at around 10 percent of iPhone sales.
CIRP also revealed that 90 percent of first-time iPhone buyers purchase Apple's smartphone at a carrier store or reseller — not an Apple Store.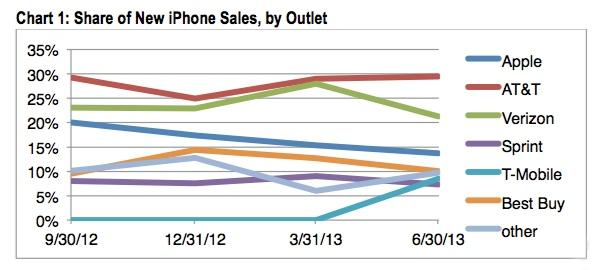 Apple's hope is that driving iPhone sales through its own stores will increase the handset's "halo" effect, which drives customers to buy other products from the company. For example, CIRP's data shows that 52 percent of iPhone buyers at an Apple Store own an iPad, and 30 percent own a Mac laptop. In contrast, just 37 percent of iPhone buyers at a carrier own an iPad, and 20 percent have a Mac laptop.
To further its efforts to bring in more iPhone customers and sell them upgrades, Apple also plans to begin taking iPhone trade-ins at its retail stores. But Levin and CIRP aren't convinced that will work.
"We don't know, exactly, how Apple can realistically meet Cook's goals," he said.