Latest iPad-bashing Microsoft ad focuses on peripherals, new Surface RT price point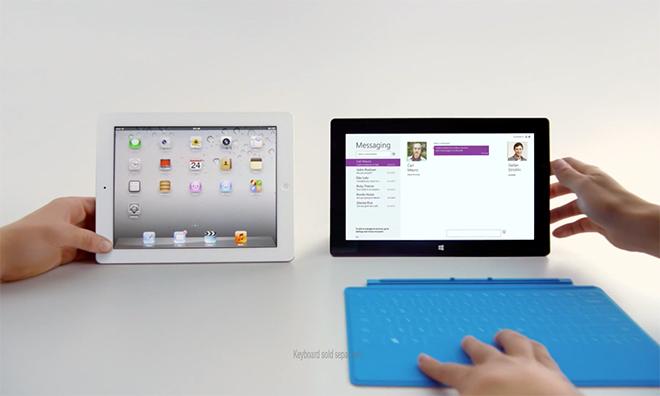 AppleInsider may earn an affiliate commission on purchases made through links on our site.
It seems Microsoft is becoming increasingly aggressive in pushing its Surface tablet lineup, and on Friday released a new ad targeting the iPad's lack of keyboard, USB slot and high cost compared to the recently discounted Surface RT.
The commercial starts out with Apple's Siri virtual assistant saying, "Oh no, here we go again," referencing what has become an anti-iPad campaign Microsoft kicked off in May. Microsoft's latest spot once again breaks down the iPad's feature set, contrasting it with that of the Surface RT running a stripped down version of Windows 8.
First up is the Surface RT's built-in kickstand, a feature the iPad lacks unless users spring for a $39 for the polyurethane Smart Cover which doubles as a prop for the tablet. Next, Apple's decision to not include a USB port directly into the iPad's chassis was attacked. iPad owners can buy an adapter for $29 if needed.
One of the Surface RT's major selling points is the ability to connect a "real keyboard" to the unit via the magnetic bottom docking system. Here, of course, Microsoft uses small print to mention its keyboard-cum-cover is optional and tacks on $100 to the Surface RT's price.
Finally, the commercial ends in the same manner as previous Surface ads, showing the $250 price discrepancy between the two tablets.
Microsoft apparently worked fast to get out the latest Surface ad, as the company just this week slashed the price of its RT models by $150.
The Redmond, Wash., company is hurting after taking a write down of $900 million for the Surface RT, which has struggled to gain a foothold in the mobile market against stiff competition from Apple's iPad lineup and a bevy of inexpensive Android-based devices. As a result of the huge write down, Microsoft stock dropped by 12 percent during Friday trading, worth about $36 billion in market value, in the company's biggest drop since 2000.