After acquisition by Apple, HopStop drops support for Windows Phone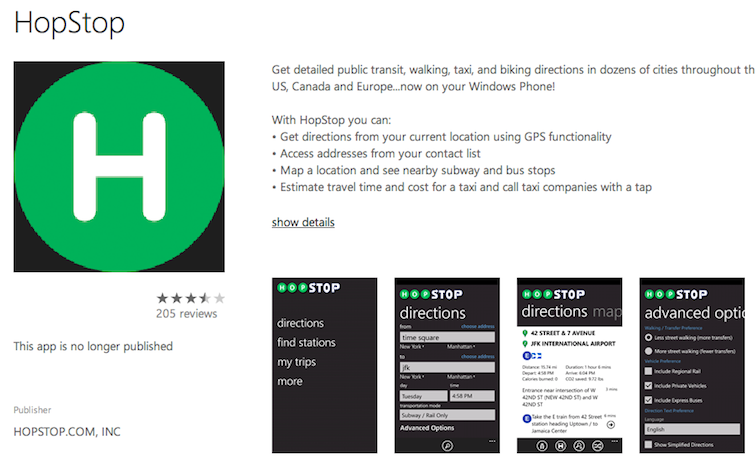 AppleInsider may earn an affiliate commission on purchases made through links on our site.
HopStop, the transit navigation app Apple acquired last Friday, dropped support for Windows Phone over the weekend, leaving users of the platform miffed.
Source: Windows Phone store
Apple doesn't usually explain why it acquires companies, but its interest in the app seems quite obviously an effort to beef up its own Maps service for iOS, and in the future, OS X, which is getting its own Maps app starting with the Mavericks release expected this fall.
Along with supporting transit information for over 300 major cities, Apple's newly acquired HopStop also includes walking, car and bicycle routing and sells transit maps as In App purchases.
According to a report by CP Africa, HopStop was founded in 2005 by entrepreneur Chinedu Echeruo, who grew up in Eastern Nigeria before traveling to the U.S., where he attended Syracuse University and Harvard Business School.
The HopStop app currently remains available for iOS and Android , both of which are linked to from the company's website. It has maintained four star ratings on all three platforms until it pulled support for Windows Phone, which immediately resulted in a series of low user ratings in protest.
"I wish I could give no stars," complained a user identified as Veronica on Saturday. "This rating is due to the fact that they decided to no longer support the app on windows devices. Way to go."
HopStop likely dropped immediate support for Windows Phone due to the support and maintenance required compared to the very small installed base.
The End is Nigh
Apple is almost certain to also drop support for Android, but at least for now it may be getting valuable feedback and usage data across that platforms' much larger installed base.
Apple similarly upset users when it acquired Emagic in 2002 and discontinued all of that company's Windows support before releasing a series of new Mac updates for Logic. Apple also dumped support for Android after it acquired app search engine Chomp in 2012.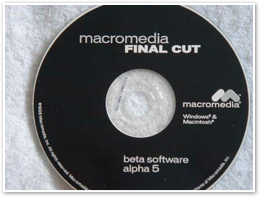 Apple has also terminated unreleased but gestating plans for software on other platforms, including the Windows version of Final Cut being developed at Macromedia when Apple took over that project, or the planned versions of Siri for Android and BlackBerry when Apple acquired the firm in 2010.
A variety of other acquisitions have similarly changed the course of other ingested companies, including the discontinuation of PowerPC chips by P.A. Semi, which Apple acquired in 2008 to bolster its own chip design team.
Apple also pulled the plug on the conventional mobile ads by Quatto Wireless in order to focus the team it acquired in early 2010 to work on a new type of opt-in HTML5 marketing experiences with iAd.
The next year, it acquired C3 Technologies to add "Flyover" 3D satellite images to its own Maps app, terminating the progress Nokia had made with C3 to develop its own 3D mapping features.