Apple board members exercise options, sell off AAPL stock worth combined $19M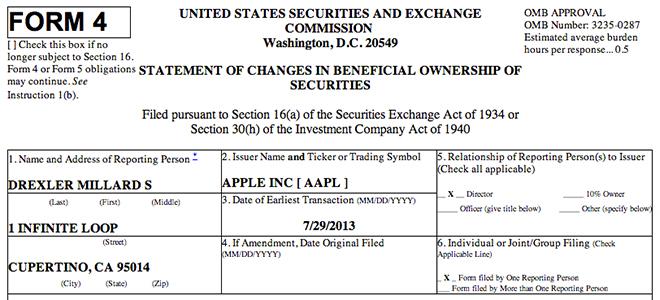 AppleInsider may earn an affiliate commission on purchases made through links on our site.
Two members of Apple's Board of Directors, Millard Drexler and William Campbell, sold company stock worth over $19 million this week, according to a filing with the U.S. Securities and Exchange Commission.
The SEC filings, published on Wednesday, note Monday as the execution date for both Drexler and Campbell's trades, which were together worth $19.03 million.
Drexler's selloff accounted for a bulk of the combined assets, with the current CEO of J. Crew Group gaining over $14.6 million after trading a total of 32,562 AAPL shares at prices ranging from about $448 to $449. As noted by the SEC, the transactions were executed in multiple trades, with reported prices reflecting the weighted average sale price.
As for Campbell, the current Chairman of the Board at Intuit sold exactly 10,000 shares in two separate batches for a total of $4.4 million. The Apple board director executed his trades at average weighted prices ranging from $440 to $441.
The traded common stock came from the two board members' Director Stock Options.
Wednesday's trades comes less than one week following a selloff worth nearly $16.4 million by the company's chief financial officer Peter Oppenheimer.