Briefly: Apple CFO Oppenheimer nets $16.4M in stock selloff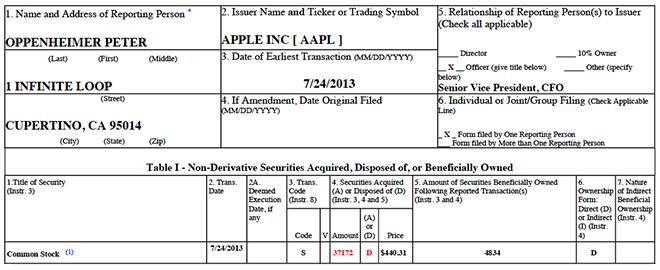 A filing with the U.S. Securities and Exchange Commission published Friday reveals Apple senior vice president and Chief Financial Officer Peter Oppenheimer sold 37,172 shares of AAPL stock earlier this week at a price of $440.31, netting the executive $16.37 million.
The sale was executed one day following Apple's quarterly earnings call for its third fiscal quarter of 2013 on Tuesday, and was reported pursuant to SEC Rule 10b5-1 regarding insider trading.
According to previous SEC filings, the shares Oppenheimer sold came from a cache of 75,000 restricted stock units that vested in June. At the time, the executive sold off 37,828 shares worth $15,641,878, with Wednesday's transaction depleting the remaining vested stock.
Oppenheimer now holds a total of 4,834 common stock shares, which at today's price of $440.99 are worth $2.13 million, and will see another 75,000 RSUs vest in March 2016 contingent on his continued employment at Apple.