Apple's iPad lineup slipped to 32% of tablets shipped in Q2 2013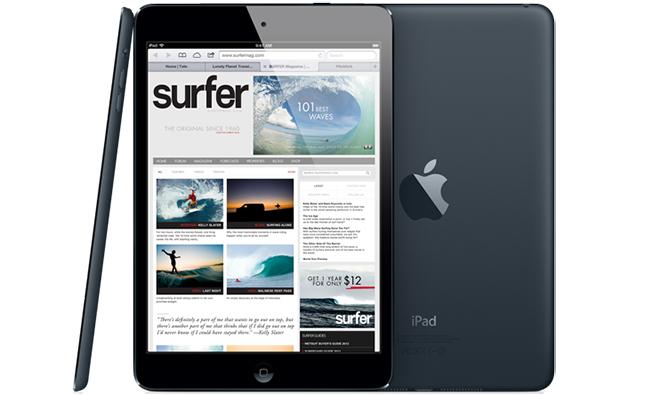 While iPad shipments fell year over year in the June quarter, competing Android tablets saw huge gains, reducing Apple's share of worldwide tablet shipments to less than a third.
Apple remains the largest tablet maker in the world, according to the latest estimates published Monday by IDC. But it accounted for 32.4 percent of shipments in the second quarter of calendar 2013 — well off from the 60.3 percent the company held in the same quarter a year ago.
"A new iPad launch always piques consumer interest in the tablet category and traditionally that has helped both Apple and its competitors," said Tom Mainelli, research director for tablets at IDC. "With no new iPads, the market slowed for many vendors, and that's likely to continue into the third quarter. However, by the fourth quarter we expect new products from Apple, Amazon, and others to drive impressive growth in the market."

While Apple's shipments slid 14.1 percent year over year, competing tablet makers who use Google's Android mobile platform all saw significant games. The second-largest tablet maker, Samsung, posted a 277 percent year over year gain to 8.1 million units, good for 18 percent of the market.
In third was Asus, which grew 120 percent to 2 million units, taking a 4.5 percent slice of shipments. Lenovo came in fifth with 313.9 percent growth, hitting 1.5 million units and 3.3 percent share.
Finally, in fifth place was Acer, which shipped 1.4 million units, or 3.1 percent of the total market, on 136.6 percent growth. In all, tablet shipments were up 59.6 percent from the same quarter in 2012, and reached 45.1 million total units.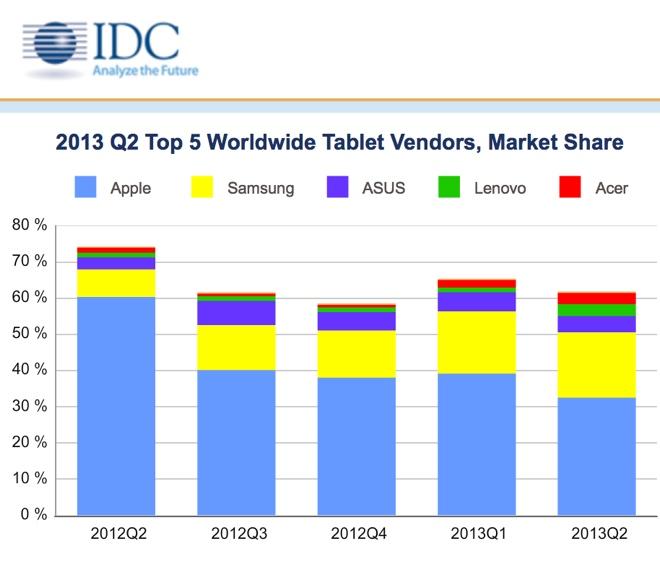 In terms of platform, Android was found on 62.6 percent of tablets shipped in the second quarter, or 28.2 million units. iOS carried the same share of 32.5 percent in both software and hardware, as the platform is only available on Apple's iPad.
The platform that saw the largest growth during the quarter was unsurprisingly Microsoft's Windows, which surged 527 percent year over year. Tablets running Windows RT and Windows 8 weren't available until late 2012, meaning last year's June quarter saw virtually no Windows-based tablet sales.
"The tablet market is still evolving and vendors can rise and fall quickly as a result," said Ryan Reith, program manager for IDC's Mobility Tracker programs. "Apple aside, the remaining vendors are still very much figuring out which platform strategy will be successful over the long run. To date, Android has been far more successful than the Windows 8 platform. However, Microsoft-fueled products are starting to make notable progress into the market."
Of course, shipments and market share are only part of the story, as actual sales to customers are unknown, and Apple is still the undisputed leader in collecting the lion's share of profits from tablets. Apple Chief Executive Tim Cook noted in his company's most recent quarterly earnings report that the latest Web browsing share data shows that the iPad accounts for 84 percent of tablet traffic.
"If there are other tablets being sold," Cook said, "I don't know what they're being used for."