Apple Stores gain new Philips Hue Bloom & LightStrips lighting options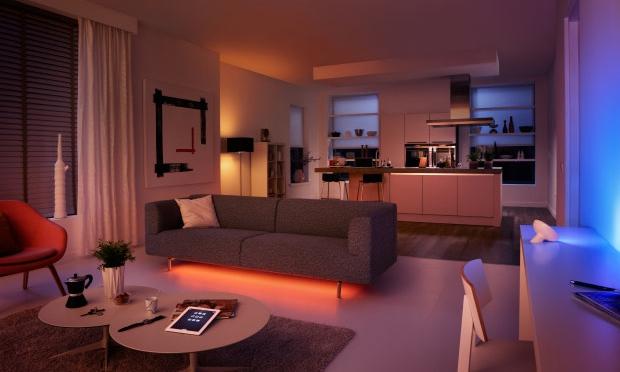 AppleInsider may earn an affiliate commission on purchases made through links on our site.
Apple's online and retail stores will become the exclusive home of Philips' latest iPhone-connected Hue lights this week: the Bloom portable LED bulb and stick-able LightStrips, both of which do not require a standard light socket.
Both new additions to the Philips Hue family — dubbed Friends of Hue — will be available in Apple Stores starting on Thursday. The products will require the Hue starter kit, also available in Apple Stores, as well as resellers such as Amazon for $199.99.
When paired with the Hue bridge, the new products will offer users more dynamic multi-colored lighting options for their connected home. The existing bulbs and new accessories can be customized and programmed via the official Hue app for iPhone and iPad.
The new LivingColors Bloom is a compact fixture that can be placed on a flat surface such as the floor or a bookshelf. The Bloom then bounces light of any surface to illuminate the room.
And the new LightStrips from Philips come as a 6.6-foot LED strip that can be cut to size. With an adhesive backing, the LightStrips can be mounted where users see fit.
The products are compatible with the full Hue spectrum of colors already offered on the official bulbs. They also integrate with available geofencing and IFTTT features, allowing for customization such as automatically turning on the lights when a user arrives at home, or providing visual cues for data such as sports scores or e-mail.
While the Hue starter kit and individual $60 bulbs are available through Amazon, the new LivingColors Bloom and LightStrips will reportedly be exclusive to Apple's online and retail stores for this week's launch.