New Apple ads tout exclusive, specialized iPad apps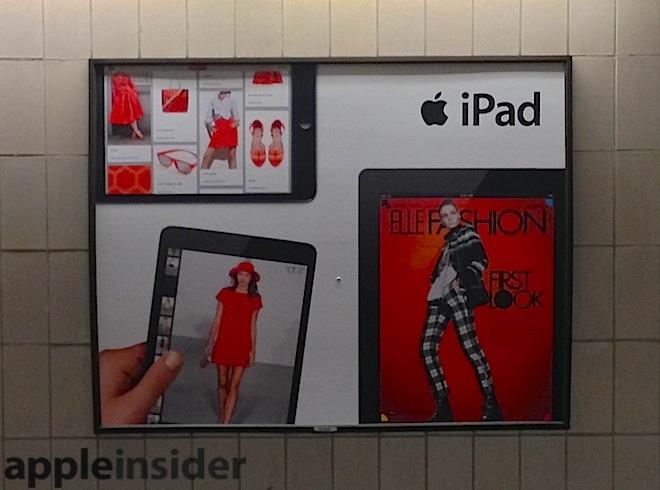 AppleInsider is supported by its audience and may earn commission as an Amazon Associate and affiliate partner on qualifying purchases. These affiliate partnerships do not influence our editorial content.
Apple's latest iPad billboard advertising campaign again focuses on the App Store's expansive selection of tablet-optimized and often exclusive apps.
In February, Apple launched an iPad campaign directing attention to "300,000 apps for everything you love," with each poster presenting two thematically related ads, one on a full sized iPad and one on an iPad mini (below).
Apple's latest ads present a trio of iPads, each related to a theme but with no accompanying text apart from a solid black Apple logo and, simply, "iPad." Below, two side by side ads on display on San Francisco's Market Street depict specialty apps for foodies and for fashionistas.
A third poster, appearing down the street on display in front of the Twitter headquarters (below), portrays a trio of apps of interest to artists and art aficionados.
The same set of ads are on display in BART stations, here in MacArthur Station in Oakland, joined by a third targeting readers of the classics, modern novels and magazines.
Nearby in the same station, a poster targets musicians and music lovers with apps for making, perusing and reading about music.
Underground, another iPad poster associates 1940's film noir apps, including a classic miTypewriter, a classic Olympus camera, and a classic novel The Stranger.
Apple: Mind the App Gap
Apple has been incessantly focusing on apps for iPad in its advertising since it first released the tablet three years ago alongside its own Pages, Numbers and Keynote productivity apps.
At the launch of iPad 4 and iPad mini last October, Apple's head of product marketing Phil Schiller drew special attention to the "night and day" difference between tablet-optimized iPad apps and the stretched smartphone apps that work on Android tablets (below).
That has left competitors to focus on hardware features and price rather than fun and functionality, resulting in high volume but profitless Android shipments, and low volume but still very expensive experiments like the HP TouchPad and Microsoft Surface.
The importance of apps in selling tablets has recently been highlighted by Canalys, which observed, "building high-quality app experiences for Android tablets has not been among many developers' top priorities to date."
A report by Jared Newman for Time, similarly stated that many popular apps that do exist for Android, including Pandora (above), Twitter, Facebook and Dropbox, fail to take any advantage of the additional real estate on tablets, just "stretching out their interfaces instead of filling the screen with sidebars and menus."
Despite a favorable review of the hardware in Google's new Asus-built Nexus 7, David Pierce wrote for The Verge that "the Android app situation has improved a lot, but it's still squarely in the iPad's rearview mirror. From Paper to Clear to Badland, it's no contest."