Apple already has experts on-site in China investigating latest claims of labor violations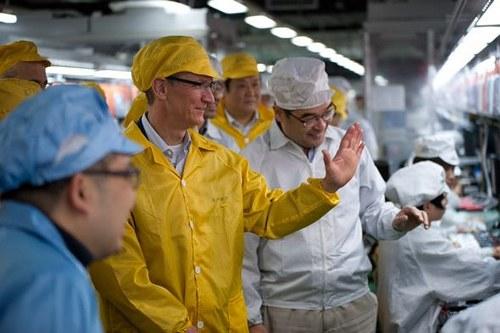 Just hours after a new report slammed an Apple supplier for failing to meet labor laws in China, the iPhone maker has responded and revealed that its investigators are already at the factory in question.
Apple CEO Tim Cook touring an iPhone production line at a Foxconn plant in Zhengzhou, China.
"We take any concerns about our suppliers very seriously, and our team of experts is on-site at Jabil Wuxi to look into new claims about conditions there," Apple spokeswoman Kristin Huguet said in a comment provided to AllThingsD.
Apple revealed that it has conducted 14 "comprehensive audits" of Jabil in the last five years, and three of those in the past 36 months. Jabil's facility in Wuxi, China, is said to have performed above the company's 92 percent average compliance rate for a 60-hour per work week limit.
"An audit conducted earlier this year did find that some employees had worked more than six consecutive days without a day of rest, and Jabil has been working with our team to better manage overtime," the company said.
The comments from Apple were made in response to a report issued earlier Thursday by watchdog group China Labor Watch. It claimed that workers at the factory have over 100 hours of monthly mandatory overtime, which would be three times the legal limit.
China Labor Watch also claimed that workers at the factory see more than 11 hours of standing work every day, while the Wuxi facility was also accused of inadequate training and hiring discrimination.
The Jabil factory in Wuxi is claimed by China Labor Watch to be outputting new "iPhone 5C" units for Apple. The company has scheduled a press conference for next week, at which it is expected to unveil the new low-cost plastic handset, as well as a new flagship "iPhone 5S."