Apple's iOS grows mobile browsing share in US to dominant 65%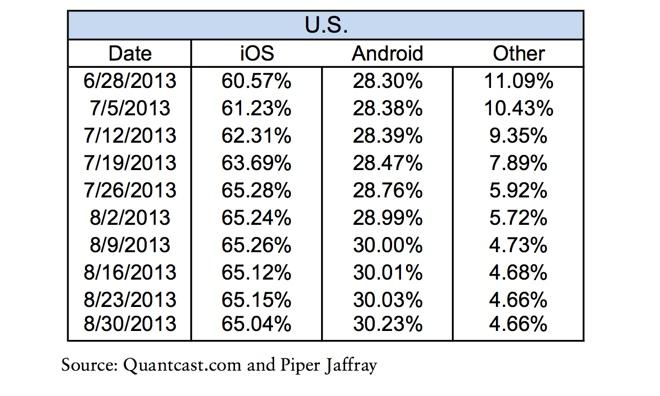 Apple's iOS has widened its lead over Google's Android in terms of mobile Web traffic share in the U.S., reaching 65 percent of the market, according to new data.
Quantcast and investment firm Piper Jaffray have been tracking 1 billion monthly page views from around the Internet. Their latest data released on Friday shows Apple's iOS grew from a 61 percent share in late June to 65 percent at the end of August.
During that same span, Google's Android also saw its domestic Web browsing share grow, but not as much. Android went from 28 percent at the end of June to 30 percent in late August.
Growth for both Android and iOS squeezed out other platforms like Microsoft's Windows Phone or BlackBerry, which collectively accounted for just 4.66 percent of mobile traffic share by the end of August.
Piper Jaffray analyst Gene Munster said the data demonstrates the popularity of Apple's iPhone in America, where it accounts for more than 50 percent of new smartphone sales on both AT&T and Verizon, the country's two largest carriers.
In addition, Munster said that iOS users are more engaged with their phones on a daily basis than the average Android user. Apple is also bolstered by the dominance of the iPad, which runs the same mobile operating system as the iPhone.
The data released Friday is just the latest to demonstrate that iPhone owners are more active and more engaged with their devices than users of other mobile platforms. The iPad is even more prevalent, accounting for 84 percent of Web traffic from tablets — a fact cited by Apple Chief Executive Tim Cook earlier this year.
"If there are lots of other tablets selling, I don't know what they're being used for," Cook said. "Because that's a pretty basic function, is Web browsing."