US carriers signal launch iPhone 5s inventory will be 'grotesquely' low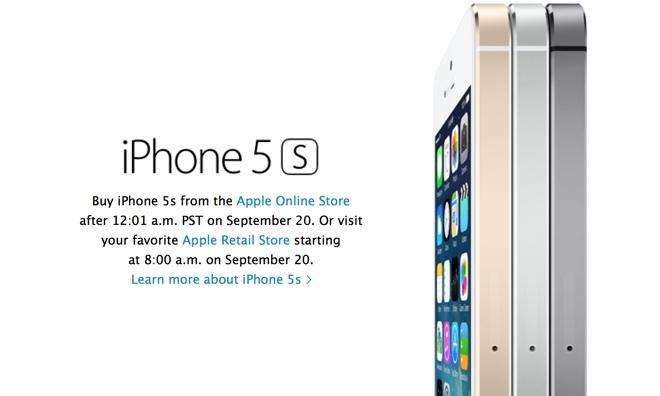 Seemingly confirming rumors that Apple will not be able to provide adequate inventory of the iPhone 5s this weekend, a new report reveals that carriers are facing "grotesquely" low inventory for the device's launch.
Sources from U.S. carriers who spoke with AllThingsD on Tuesday revealed that they are disappointed by the number of iPhone 5s shipments they are receiving from Apple. Sales of Apple's next flagship handset will begin online Friday at 12:01 a.m. Pacific, while Apple's retail stores will begin selling the iPhone 5s when they open at 8 a.m. local time.
Tuesday's report also revealed that carriers may be seeing less demand for the iPhone 5s than expected. That's attributed to the new mid-range, multi-colored iPhone 5c, which may be proving more popular than some had anticipated.
It's unknown whether Apple is holding the majority of inventory for its own retail stores, or whether the new handset will be spread thin between Apple itself and its carrier partners. Regardless, Apple is not accepting preorders for the iPhone 5s ahead of Friday's launch, a fact that had already suggested to many observers that supply will be limited this weekend.
Preorders for the iPhone 5c did begin last week, and carrier-subsidized models appear to remain in healthy supply from Apple's online store. The new iPhone 5c features many of the same components as last year's iPhone 5, but sports a new polycarbonate back that is available in five colors: green, blue, yellow, red and white.
Well-connected analyst Ming-chi Kuo of KGI Securities revealed last month that the iPhone 5c would out-ship the iPhone 5s in the current quarter. According to Kuo, the iPhone 5s has faced apparent production issues associated with the new Touch ID fingerprint scanner located under the home button.
Both the iPhone 5s and iPhone 5c are launching on all four major U.S. carriers this Friday: AT&T, Verizon, Sprint and T-Mobile. The devices will also be available in Australia, Canada, China, France, Germany, Hong Kong, Japan, Puerto Rico, Singapore and the U.K.