Google makes Quickoffice free on iOS, Disney brings 'Infinity: Toy Box' to iPad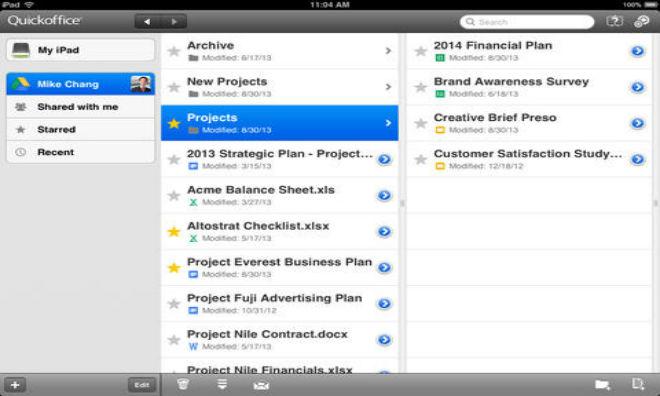 Google has made its Quickoffice suite free on iOS for users with Google accounts, and Disney has released an iPad companion app for its Disney Infinity console game.
Version 6.0 of the Google-owned Quickoffice productivity suite is now free for iOS users with a Google account. The new version works on iPhones, iPods, and iPads, and its icon has been tweaked to better fit the flat aesthetic of iOS 7.
Quickoffice allows users to create and edit Microsoft Office documents, spreadsheets, and presentations on iOS devices. Those files can then be accessed an shared through Google Drive folders and attached to emails. The app also lets users open and view PDF files.
In addition to taking the app free, Google has improved its integration with Google Drive. Quickoffice users now have access to up to 15GB of free storage on Google's cloud solution.
Quickoffice version 6.1.0 is a free download on the App Store. The 59.8MB app requires an iPhone, iPad, or iPod running iOS 5.0 or later.
Disney Infinity gets companion iPad app
In Disney Infinity: Toy box, users get more than 50 free items to build a playground of sorts for their assorted characters to explore. Those items include terrain, track pieces, and assorted decorations. Users also get access to the Mr. Incredible character for free. Additional characters can be added using web codes included with physical toys or by making in-app purchases. Users can access more than 20 Disney and Disney/Pixar characters through the Toy Box app.
Notably, the app also allows users to log into a Disney Infinity account and to transfer anything created on the iPad over to the Xbox 360, PS3, Wii, or Wii U version of the game. It also includes a cross-platform syncing feature, allowing users to pick up where they left off on whichever platform they decide to game on.
Disney Infinity: Toy Box is available as a free download in the App Store until October 15. The game does feature in-app purchases. Weighing in at 1.23GB, the download requires an iPad running iOS 6.0 or later.
AppleInsider has affiliate partnerships and may earn commission on products purchased through affiliate links. These partnerships do not influence our editorial content.