Apple's iPhone 5s and 5c draw massive crowds on launch day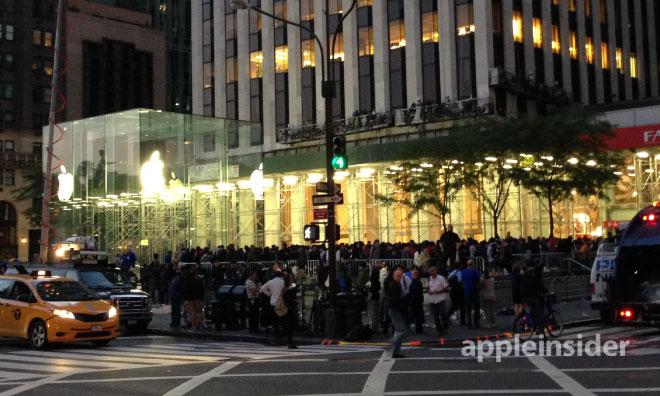 Apple stores worldwide were packed this morning as the iPhone 5s and 5c went up for sale in a total of 11 countries and territories. Here's a look at some of the lineups spotted around the globe.
Customers line up outside Apple's flagship Fifth Avenue store. Thanks to AppleInsider reader Ryan.
Apple stores across America and the world saw huge crowds this morning as eager customers prepared to pick up their new iPhones. Apple's flagship Fifth Avenue store, where customers began to line up earlier this month — before the iPhone 5s and 5c were even announced — boasted a snake-like queue on the pavement outside the store's landmark glass cube.
Even smaller Apple stores, like those in White Plains, New York and Indianapolis, Indiana saw dozens of customers queue up well before the opening countdown. Analysts have predicted that Apple could sell up to 8 million of the new devices on launch weekend.