Samsung confirmed to be manufacturer of Apple's new A7 chip in iPhone 5s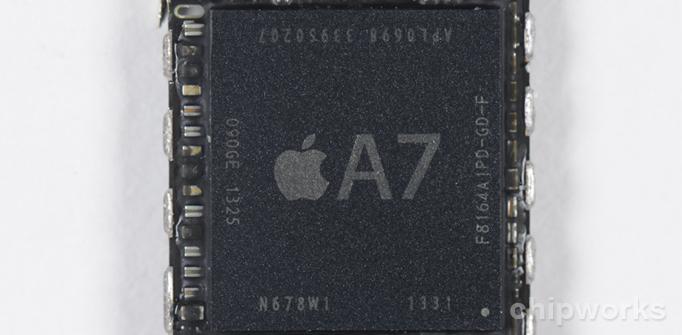 Apple has once again turned to Samsung to manufacture its new 64-bit A7 processor that powers the flagship iPhone 5s, an analysis of the system-on-a-chip has confirmed.
The silicon experts at Chipworks revealed on Friday that the new A7 ARM CPU, custom designed by Apple, was in fact fabricated at Samsung's foundry.
They are still looking for closer details, but suspect that the processor will utilize Samsung's 28-nanometer Hi K metal Gate. If that prediction proves accurate, it would mean Apple is using the same process as the Galaxy S4's Exynos Application processor.
Chipworks also found the new M7 motion coprocessor inside the iPhone 5s, which is labeled as the NXP LPC18A1. It's based on the LPC1800 series Cortx-M3 microcontrollers made by NXP
As for the enhanced camera in the iPhone 5s, the iSight module was discovered to be a custom Exmor-RS sensor from Sony. Other parts in the handset include a touchscreen controller from Broadcom, an LTE modem by Qualcomm, and NAND flash from SK Hynix.
But it's the CPU that powers the iPhone 5s that has been of much speculation, as all of custom A-series chips to date have been built by Samsung. There have been indications that Apple would prefer to move away from Samsung, and potentially to Taiwan Semiconductor Manufacturing Co., for its chip production, as Samsung is Apple's chief competitor in a number of markets.
Apple has worked in recent years to lessen its reliance on Samsung for other key parts, such as flash memory found in the iPhone and iPad. But to date, Samsung's silicon fabrication facilities in Austin, Tex., have been responsible for all A-series chips.