Apple's pricier iPhone 5s reportedly outsells more affordable iPhone 5c by wide margin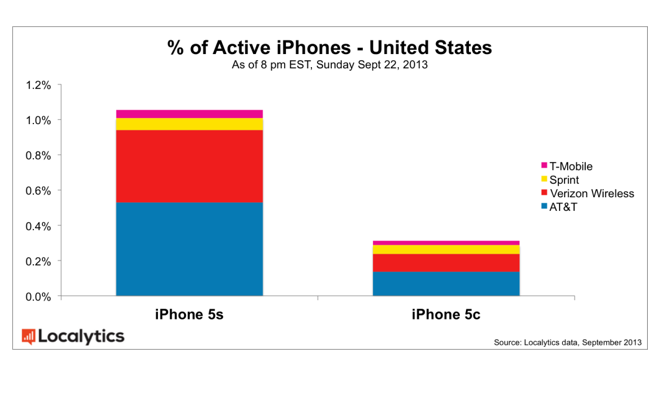 AppleInsider may earn an affiliate commission on purchases made through links on our site.
Apple's new high-end iPhone 5s proved to be the most popular choice for early adopters this weekend, outselling the mid-range iPhone 5c by more than threefold, a new report claims.
Data published Monday by Localytics found that the iPhone 5s was 3.4 times more popular than the iPhone 5c after the first three days of availability. The firm's data is based on data from over 20 million unique iPhones tracked through applications and customers.
Together, the iPhone 5s and iPhone 5c represented 1.36 percent of all iPhones activated in the U.S. through carriers AT&T, Verizon, Sprint and T-Mobile. The iPhone 5s represents 1.05 percent of all U.S. iPhones, while the iPhone 5c accounts for 0.31 percent.
"That means the iPhone 5s outshines the 5c by a factor of 3.4x, a clear indicator that early adopters are favoring the high-end 5s compared to the 5c," wrote Bernd Lerger, vice president of marketing at Localytics. "This makes sense since those who feel the need to buy a new device the very weekend it launches are most likely the power users who want the highest-end phone experience."
The iPhone 5s is Apple's new flagship phone, featuring the A7 processor, Touch ID fingerprint scanner, M7 motion coprocessor, and improved iSight camera. The iPhone 5c, meanwhile, features largely the same parts and performance last last year's iPhone 5, but features a new polycarbonate plastic back that comes in a range of five new colors.
Breaking down adoption of the latest iPhones by carriers, Localytics unsurprisingly found that AT&T was the most popular choice for users. For years AT&T was the exclusive carrier of the iPhone, and the wireless provider has remained the default choice for most iPhone users in the U.S.
Internationally, the data also shows the iPhone 5s outpacing the iPhone 5c, by an even greater factor of 3.7 times. In Japan, the iPhone 5s is more popular than the iPhone 5c by a factor of five.