Apple appeals verdict, punishment in e-book antitrust case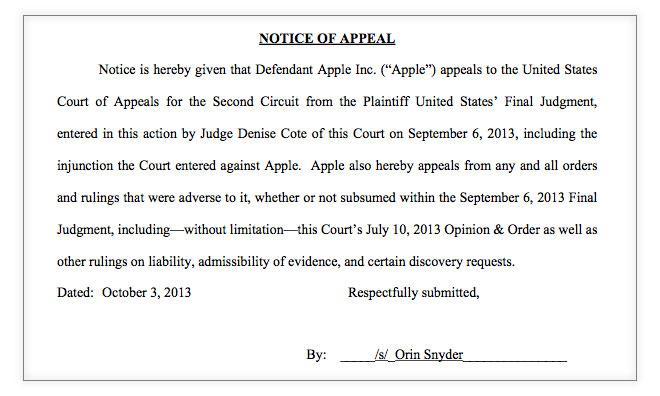 Apple on Thursday formally notified the court that they will appeal the guilty verdict and resulting injunctions handed down in July's e-book antitrust ruling.
Apple's fight against the Department of Justice will shift into the hands of the Second Circuit Court of Appeals as Cupertino's lead attorney, Orin Snyder, filed an official notice of appeal Thursday on behalf of the iPhone maker. Snyder previously indicated the company's plans to appeal in an August letter to Judge Denise Cote.
The notice comes nearly three months after Apple was found guilty of conspiring with major publishers to raise e-book prices and just one day before an injunction handed down as a result of the verdict was set to go into effect. The injunction would force Apple to stagger contract renegotiations with publishers and bring on an external compliance monitor, among other punishments.
"Notice is hereby given that Defendant Apple Inc. ("Apple") appeals to the United States Court of Appeals for the Second Circuit from the Plaintiff United States' Final Judgment," Snyder wrote, "including the injunction the Court entered against Apple."
Apple is not required to submit its formal arguments for the appeal until early 2014, according to GigaOm.
On Friday, publisher Simon & Schuster filed a separate notice of appeal, though the CBS subsidiary only intends to fight the injunction due to its effect on the company's ability to renegotiate its contracts with Apple. Simon & Schuster settled with the Department of Justice in 2012.