App Roundup: New iLife and iWork apps for OS X, iOS go live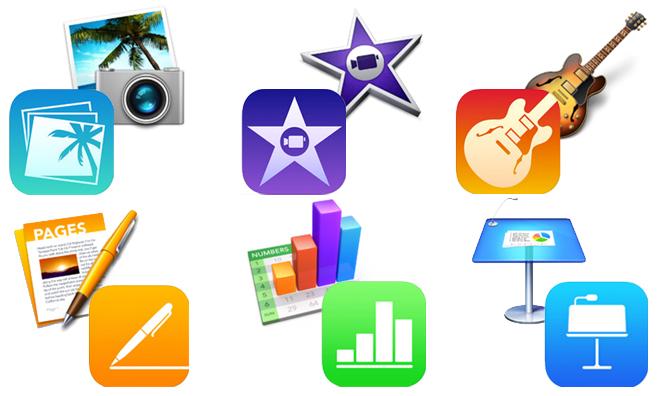 Following Apple's announcement of retooled iLife and iWork apps for both iOS and OS X on Tuesday, the company has started rolling out the new software to users via the App Store.
For the launch of OS X 10.9 Mavericks, Apple redesigned its iLife suite of apps, including iPhoto, iMovie and GarageBand, as well as the iWork suite, which features Pages, Numbers and Keynote. The titles are now available for download on both platforms.
The new apps will be made free to new iOS and Mac device buyers, as well as users who purchased the software via the App Store. Both OS X and iOS versions retain the usual respective $19.99 and $4.99 price tags seen before the update.
iLife
For iLife, iPhoto nabs 64-bit support as well as iCloud sharing and user interface tweaks. To bring the title in line with the iOS 7 version, filters applied to photos are now supported in-app. Also included is a host of bug fixes from the software's previous version.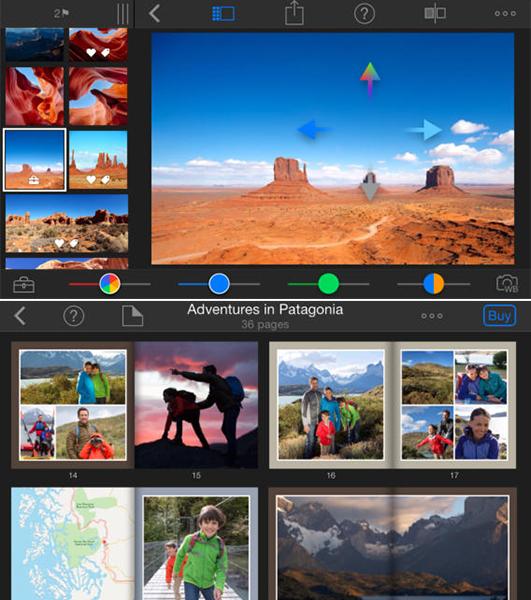 With the iOS version of iPhoto, Photo Books are now available for iPad. The new feature allows users to layout photos taken from a device's camera roll and lay it out in a book, which can be sent to Apple for printing. Also available are pro-quality prints in a variety of sizes, including square and panoramic.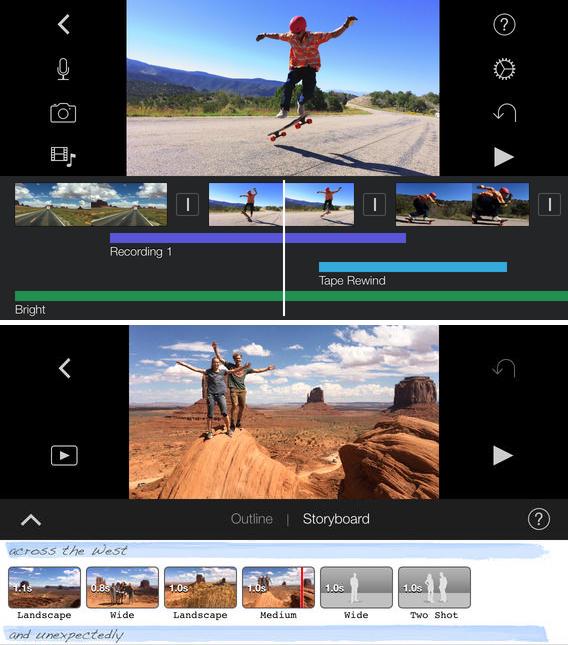 iMovie for OS X received a substantial working over, including a new UI that makes library browsing easier than before. The desktop version also has close ties with iOS devices, including support for movies shot with the new iPhone 5s' slo-mo feature. A centralized sharing service called iMovie Theater lets users compile clips, movies and trailers and share them with friends. A simplified drag-and-drop control scheme has also been implemented for inputting pictures and other content, while more templates and themes have been added.
The iOS iteration of iMovie also has hooks into the new Theater sharing service, while new enhancements like a full-screen video browser, new title styles and transitions, slow motion support and special effects like cutaway, picture-in-picture and split-screen, round out the package. The app is also 64-bit compatible for the new A7 processor.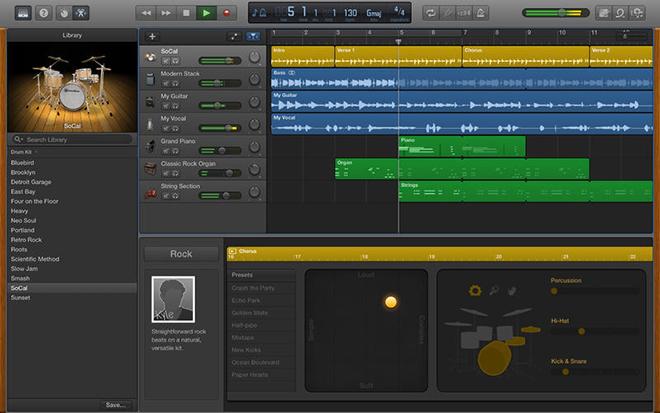 Finally, GarageBand for Mac has been updated with an all-new look and sound library with fresh instruments and samples. The highlight feature, as shown onstage during Tuesday's special event, is a virtual session drummer that can adapt to directions with realistic beats. There are 15 players to choose from over a variety of genres, including rock, alternative, R&B and more.
GarageBand for iOS now supports 64-bit, like the new iPads, and can create songs with up to 32 tracks on A7-equipped devices. Other notables include the ability to drag-and-drop audio recordings to create samples and compatibility with Apple's AirDrop file transfer protocol.
iWork
As part of the biggest upgrade to iWorks Apple has made in recent years, the company's suite of productivity apps has been overhauled with a fresh new look and deep cross-platform integration between OS X Mavericks and iOS.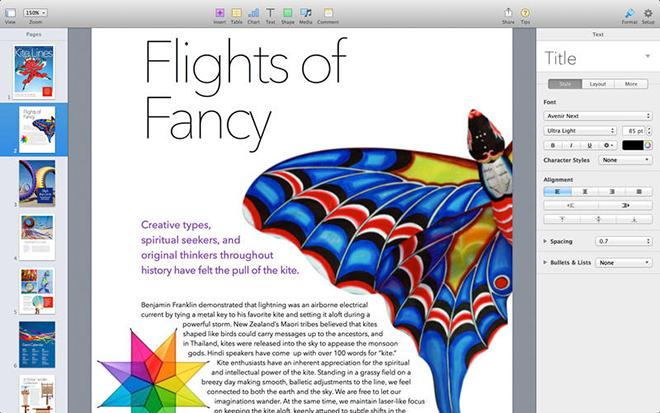 Pages for Mac brings an even simpler aesthetic to the already spartan word processor. Collaborative tools have also become a big part of the new software suite, and Pages is no exception, with read and write access granted to coworkers via iCloud.com. Over 60 Apple-designed templates are now available, while a new format panel automatically updates content based on selection. Styles and presets have been added, as well as new 2D bubble charts.
On iOS, Pages brings compatibility with the unified file format that allows users to create a document on a portable device, and edit it on a desktop or laptop. The same 60 templates from the Mac version are available for iOS users, while text formatting and other important usability assets are designed to be a tap away. With the constrained space of an iOS device, some menu items had to be moved, though the overall functionality is still there. AirDrop support is also offered, as is document sharing via iCloud.com. Finally, powerful graphs and animated content can be created on the go, a new feature for the latest version of Pages for iOS.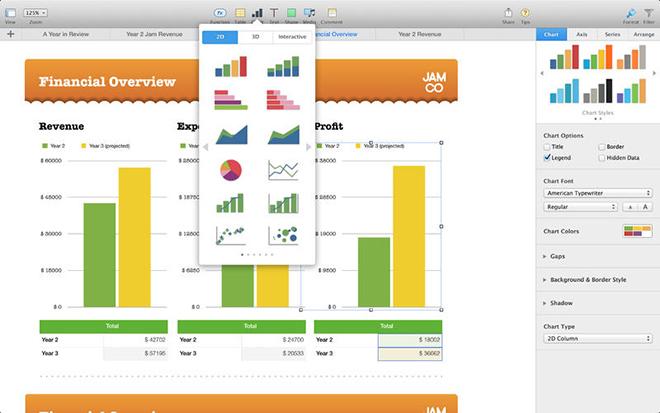 Numbers for Mac focuses on simplifying the workflow of creating and editing graphs and charts with an all new look and UI. The app gains the new format panel seen in Pages, as well as a filter panel to sift through large tables of information. Tab navigation is also new, while the smart cell view allows for live forumla results, error checking, exact value and cell formatting. As with Apple's other offerings, new templates and styles, including interactive charts, have been added.
The iOS version of Numbers offers much the same in the way of charts and graphs, but adds a new calculation engine for faster performance. AirDrop support is built in, as is iCloud.com collaboration.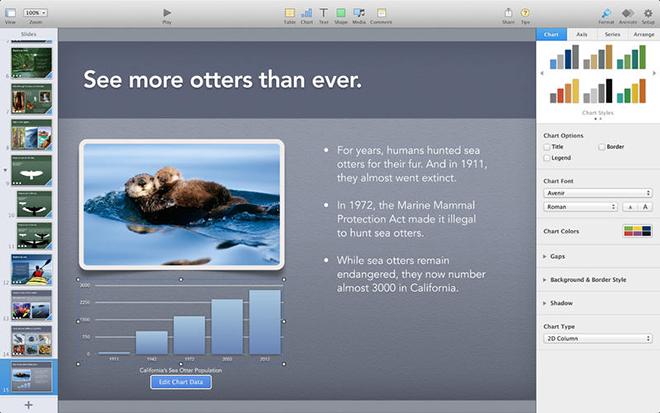 Finally, Keynote for Mac includes the new format panel, but adds updated cinematic transitions and animations as well as updated Magic Move animations. The layout has been tweaked for ease of use, and the unified file format found in all iWork apps is supported.
Keynote for iOS brings new themes and animated interactive data charts to the presentation app. In addition, AirDrop and universal file format support is baked in.