Apple announces thinner 13" Retina MacBook Pro with Intel Iris graphics, 9 hours of battery life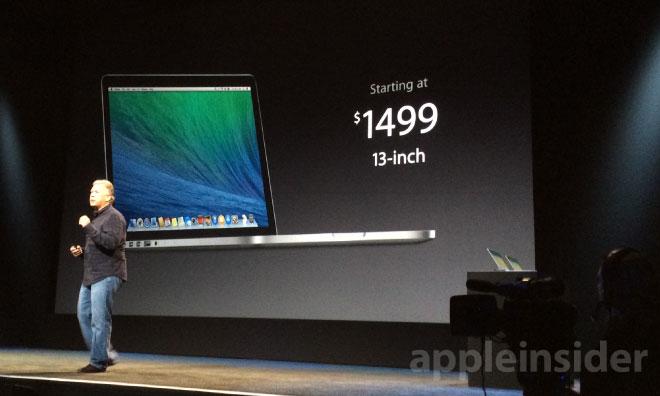 Apple's 13-inch MacBook Pro with Retina display has been updated with a thinner, lighter design featuring Intel's latest-generation Haswell processors and a new lower starting price of $1,299.
Featuring the latest Intel Haswell-series processors, the latest 13-inch model is both thinner and lighter than the last generation, at 0.71 inches thick and 3.46 pounds. Apple has also managed to squeeze more juice from the battery, pegging runtime at up to nine hours — Â two hours more than before.
Some of the battery life gains come from Apple's new OS X Mavericks operating system, which Apple software chief Craig Federighi said was a major push during Mavericks's development.
The new MacBook Pro also gains 802.11ac Wi-Fi, just as the MacBook Air did earlier this year, increasing Wi-Fi transfer speed to up to three times that of 802.11n. Two Thunderbolt 2 ports deliver up to 20 gigabits per second of data throughput to connected devices, though current third party hardware is limited.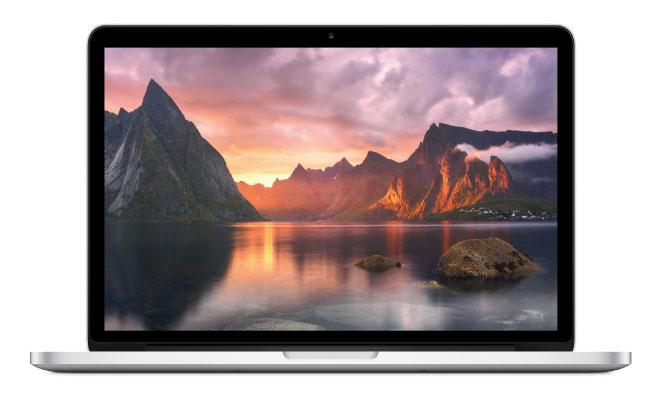 The base $1,299 model comes with a 2.5 gigahertz dual-core Intel i5 processor, 4 gigabytes of RAM and 128 gigabytes of solid-state storage. Intel's Iris graphics chipset is responsible for pushing pixels to the high-resolution Retina display. Apple says Intel's Iris chip is up to 90 percent faster than the graphics processors found in previous-generation systems.
Higher-priced variants can be specced with faster dual-core Intel i7 chips up to 2.8 gigahertz with Turbo Boost up to 3.3 gigahertz. All Retina-equipped MacBook Pro models now feature faster PCI-e storage interfaces.
Apple's legacy 13-inch non-Retina MacBook continues to be available, now as the only Apple laptop that does not feature a high-resolution display. Apple quietly discontinued the 15-inch version of the optical drive-wielding model after Wednesday's event.
For those planning to buy a new Mac, who may still be using OS X 10.6 Snow Leopard or OS X 10.8 Lion, Apple has provided Migration Assistant software to ease data transfer.
Check AppleInsider's Mac Price guide for a full model listing in the coming hours.