$AAPL shares regain highs from early 2013; many Apple analysts' targets now underwater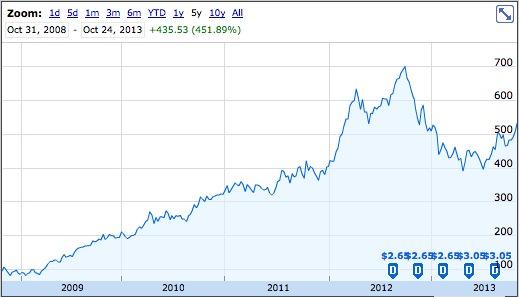 Apple's stock has returned to highs not seen since the beginning of the year, closing today above the price targets of a number of financial analysts and increasingly challenging the value of vast new buyback plans advocated by celebrity investor Carl Icahn.
With two full days of market trading left before Apple announces its September quarter earnings next Monday after the market closes, Icahn has stepped up his efforts to push Apple to take on billions of debt via bond sales in order to buy up its own outstanding shares.
Such a buyback would allow the company to incrementally pay back the debt over the next decade from its earnings, while allowing it to report higher earnings per share because there would be fewer outstanding shares. He predicts this would help boost Apple's share price faster than otherwise.
Big Buybacks
The company has already been doing this, having announced a $60 billion buyback plan earlier this year. Apple floated bonds in April and quickly found more than enough buyers willing to give the company money at very low interest in exchange for long term, low risk paper backed by the company's stellar credit from market leading performance and vast cash holdings.
At the beginning of the September quarter, Apple had $44 billion left of its buyback budget, which wasn't scheduled to be spent before 2015 according to the terms of the buyback plan. Buying back shares under the plan is also optional; Apple could decide to stop buying shares and simply let the plan expire.
However, given that Apple splurged a third of its allocated share buyback funds in the June quarter to buy up 36 million shares at an average price of $444, it appears likely that it has continued to aggressively take advantage of its acutely low stock price over the past three months to buy up shares.
The September quarter began with AAPL stock at $409 and continued below the average share price Apple had been paying to buy up stock in the prior quarter through the final two days of July. Since then, the stock has returned to being above $530, where it started at in the beginning of 2013 albeit well below its high surpassing $700 in September 2012.
Analysts underwater
Apple's stock has gone up so rapidly that a series of analysts have seen their future price targets of the company exceeded, or in some cases, their more pessimistic predictions of doom simply invalidated.
Writing for Fortune, Philip Elmer-DeWitt outlined 18 analysts with Apple price targets that are now underwater (below), a minority of the 48 he tracks, most of whom see Apple going higher (20 have targets at or above $600).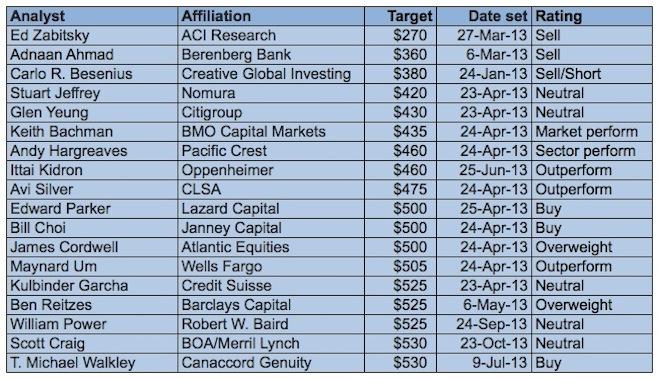 Apple could very likely report another record quarter of buybacks that matches or exceeds the value-performance of the June quarter, easily erasing another 36 million outstanding shares or potentially as many as 100 million shares, were Apple to buy all the stock its current buyback plan allowed at the price levels available in July.
Before retiring any new buybacks, Apple had 908 million shares outstanding, so another quarter of big stock purchases could reduce the company's total shares by 4 percent to as much as 11 percent, resulting in a significant impact on its revenue per share and earnings per share metrics.
Window of opportunity for cheap buybacks closing
The only reason for the company to not have vigorously exercised its buyback program would be if Apple had expected its stock to drop in the future, or if it weren't able to find sufficiently cheap shares to buy.
There's been plenty of opportunity for Apple to buy back its shares at low market rates, evidenced by AAPL shares dropping and staying depressed every time an analyst issued a reduced outlook based on illusory supply checks or the failure of the company to follow the analyst's desired strategies.
On the other hand, there's good reason to believe the company has recognized the current quarter as being as a unique opportunity for buying back shares, one which might not every occur again at today's prices.
In the June quarter, Apple faced reasonable uncertainty about whether its stock price might go down even further in the September quarter. The company knew it wouldn't be introducing any major new products before the end of September, and it had reason to believe that the market might react irrationally to risks inherent in its substantial transition to iOS 7, which it first unveiled in June.
Apple's shares have since gone up dramatically after reaching below $400 in July. Following the release of the record setting iPhone 5s and 5c last month and the announcement of new Macs, new iPads and new software along with the new OS X Mavericks this last week, Apple's shares have appreciated even more. If Apple hasn't already blown its buyback budget, it may have blown its best chance to do so.
On Monday, Apple will outline results that include the blockbuster iPhone launch weekend and its first week of new iPhone sales.