Coin aims to replace analog credit cards with a single iPhone-connected accessory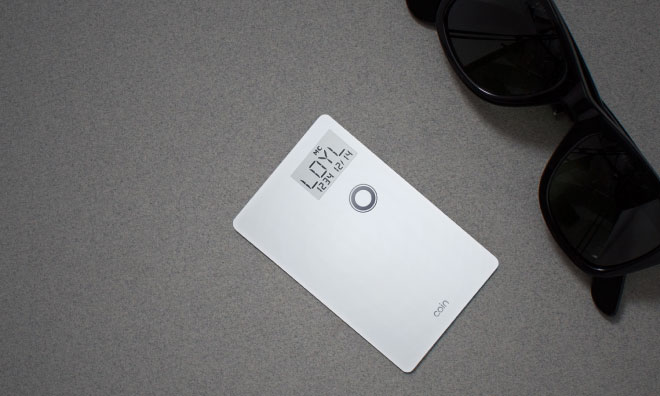 A Silicon Valley startup aims to help you rid your wallet of excess plastic with a new Bluetooth-enabled "connected card," called Coin, that can be reprogrammed on the fly and swiped at point of sale terminals like a traditional credit card.
Coin packs a lithium battery, Bluetooth low energy radio, e-ink display, and a dynamically reprogrammable magnetic strip — for which the company says it has a patent pending — Â into a small, credit card-sized device. It can masquerade as virtually any swipe-able card that uses a magnetic strip, from credit and debit cards to those used for loyalty and rewards programs.
Coin is the brainchild of mobile developer Kanishk Parashar, and the team of seven employees has been developing the idea for over a year. Rather than attempting to reinvent payments yet again by using exotic but underdeployed technologies like NFC, Parashar told AppleInsider that the company chose the swipe-able approach because of its ubiquity: nearly every credit card-enabled business in the world is Coin-enabled by default.
Users can store up to eight cards at once in the Coin's onboard memory and switch between them by pressing a small button. The selected card is displayed on a small, embedded e-ink screen, and cards can be swapped in and out at any time using a companion smartphone application and dongle which connects to the Coin via a Bluetooth low energy link.
That Bluetooth link also helps keep the Coin secure. When the Coin is out of range, the user's smartphone will send up an alert and, if the two devices are not reunited within a configurable period of time, the Coin will automatically lock itself to prevent abuse.
The company says the Coin will run for up to two years on its built-in battery with no need to recharge. Though a process has not yet been set, Parashar says that an upgrade path to a new Coin will be provided when its battery does eventually falter.
For those who enjoy a more active lifestyle, the Coin is designed to be resistant to water intrusion and a nominal amount of flexing and bending. Most magnets and money clips will likewise leave the device unscathed, though the company does caution those who work around abnormally large magnets — Â like MRI machines — Â to be cautious.
San Francisco-based Coin is a graduate of mega startup incubator Y Combinator, and have begun a crowd funding program with the goal of raising an additional $50,000 for its initial production run. The device will launch in the summer of 2014 at a retail price of $100, but early backers will have an opportunity to secure a Coin from the inaugural batch for just $50.